Happy #warriorwednesday! Today we would like to recognize Annelise Dew, the District's new Secondary IEP Coordinator. Annelise has been in education for 16 years. This is her first year with SCS and she came in and hit the ground running, proving herself to be an asset to our secondary team. Annelise has a Bachelor's Degree in Elementary Education and a Master's Degree in Special Education. She lives on a sheep ranch with her husband who she's been married to just shy of 3 years. They have lots of animals including 75 sheep that they are bringing back from extinction, 2 dogs, a donkey and a bunch of chickens and ducks! She loves to cook/bake, read, and travel. She's been to Egypt, Israel, Jorda, Germany, Italy, England, Scotland, Canada, Mexico, and to every state in the US. Welcome AnneLise Dew!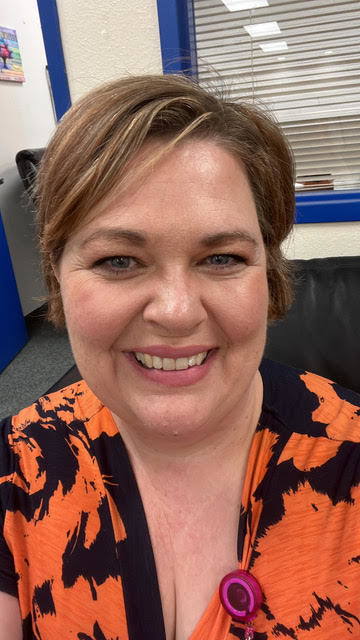 Here are some updates on Family Literacy Academy, Hispanic Heritage Month, and Electronic Benefit from NMPED. Utilize these resources as they are there to help our students and families!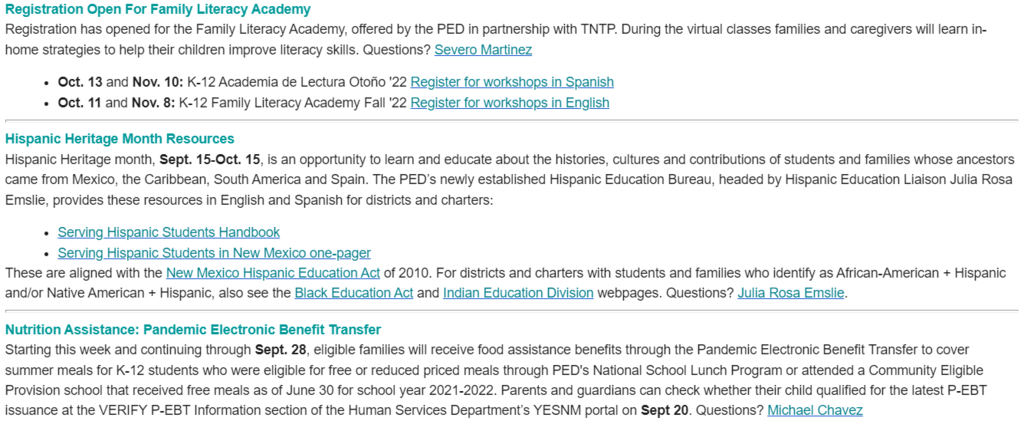 For today's #warriorwednesday SCS would like to recognize Rachel Towner, one of our amazing Bus Drivers! Rachel is an #shsgrad #classof2001 and has been with the District for 16 years (4 as an EA and 12 as a Bus Driver). She is a Mom of two and stays very active with here kids' activities (including serving as a 4H leader). Rachel is dedicated and dependable and an asset to the District! #onceawarrioralwaysawarrior #educatenurtureinspire #busdriver
Attention Warrior family! Homecoming for SHS will be the week of October 17-22! Many have heard that it was this week, but nothing was finalized or announced officially to the public. Due to other events at school and timing of games the date was moved. We apologize for the inconvenience and even though we are doing spirit week it is just part 1 of 2.

It's #warriorwednesday and SCS would like to introduce you to Bradford Lux, the 4th/5th grade teacher at San Antonio Elementary. This is Mr. Lux's first year in the District and he has been a great addition. He is always willing to step up and has shown the staff what it takes to make lemonade out of lemons. Please help us welcome Mr. Lux!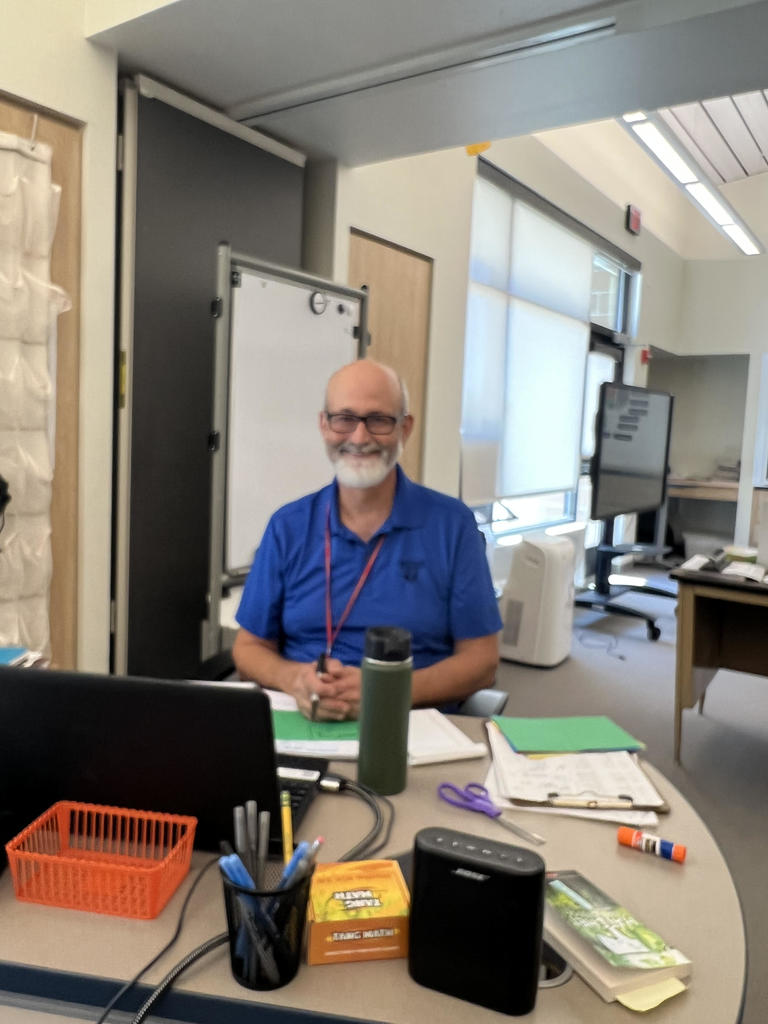 Sarracino Middle School Open House September 12, 2022 from 5:30 to 7 PM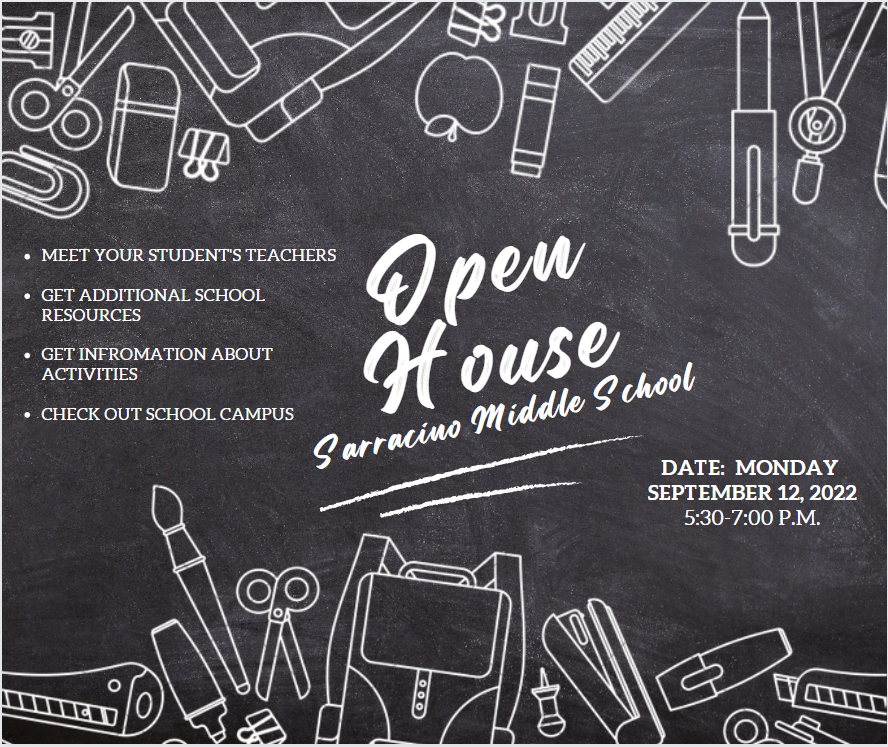 Role models! The warrior football team went down to Parkview Elementary today to read to our young Warriors! Awesome job gentlemen! Go Warriors! 🏹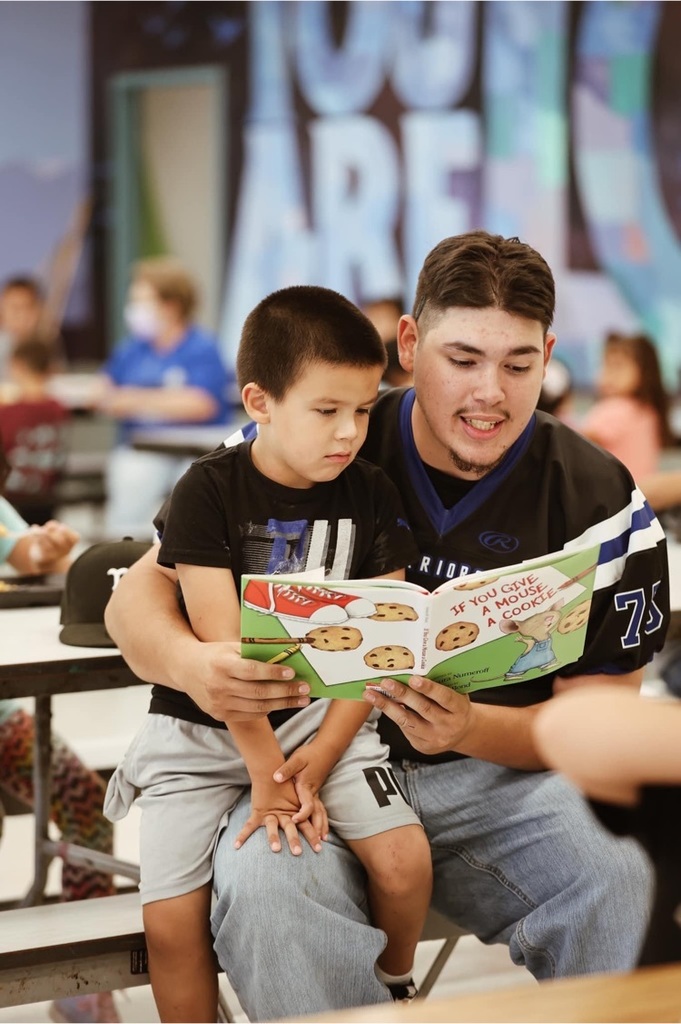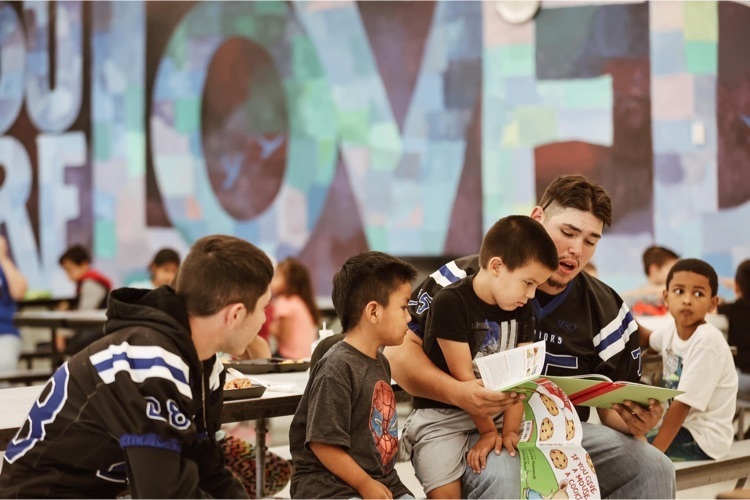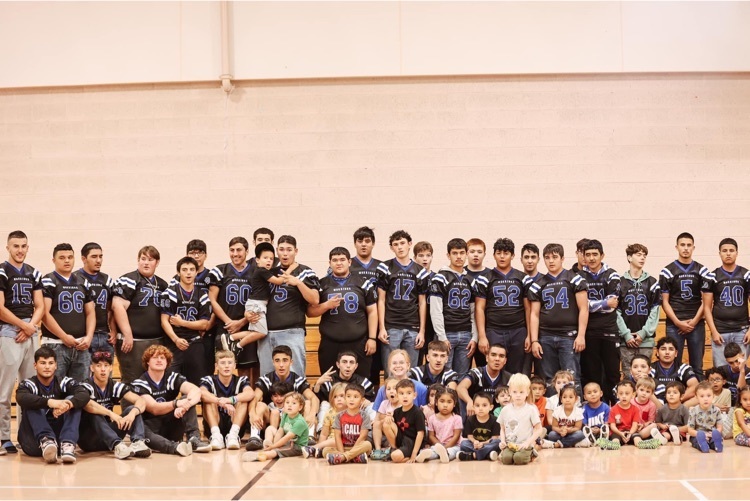 This #warriorwednesday SCS would like to recognize 4 amazing staff members who joined the Midway family for the 2022-2023 school year. The staff and students of Midway are excited to welcome John Ray Dennis as our 4th grade teacher. We are also thrilled to welcome Veronica Saavedra, Evelyn Hill, and JeriAna Contreras as Educational Assistants. All four of these amazing individuals have been tied to Midway (in some way or another ) over the past several years and have already played a huge role in helping to make Midway nothing but the best for our students. We ABSOLUTELY love them and are lucky to have each of them as part of our SCS family! #buildrespectfulrelationships #onceawarrioralwaysawarrior #educatenurtureinspire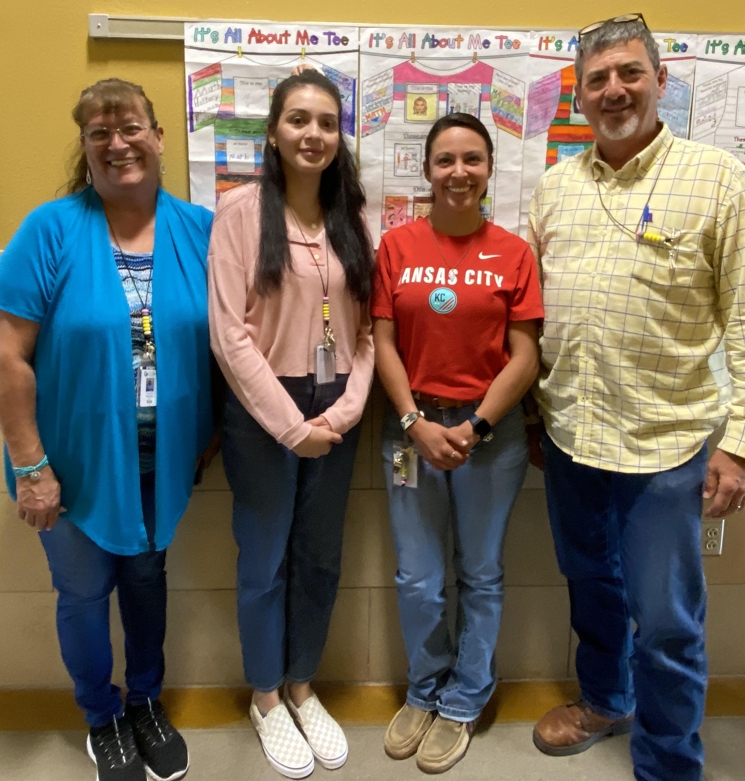 Socorro Consolidated Schools would like to welcome new head girls basketball coach at SHS Bradley Bailey to the district! Coach Bailey brings many years of head coaching experience to the Warrior family, most recently serving as head boys basketball coach at Mayfield High School in Las Cruces. Please welcome Coach Bailey to the Warrior Family!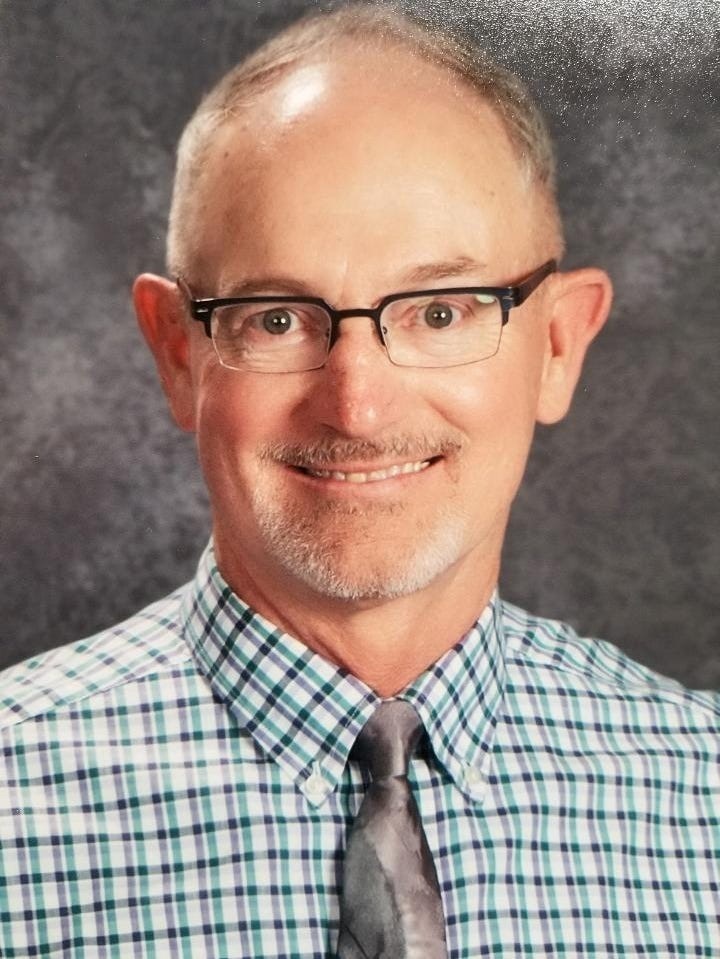 This #warriorwednesday SCS would like to introduce and welcome Lauren Reynolds, Educational Assistant at Parkview Elementary. She moved from Farmington to Socorro with her husband Caiden 3 weeks ago. She enjoys camping, fishing, horseback riding, and spending time with animals. She is excited for her work at Parkview because she loves to help people and see the students learn and grow. #educatenurtureinspire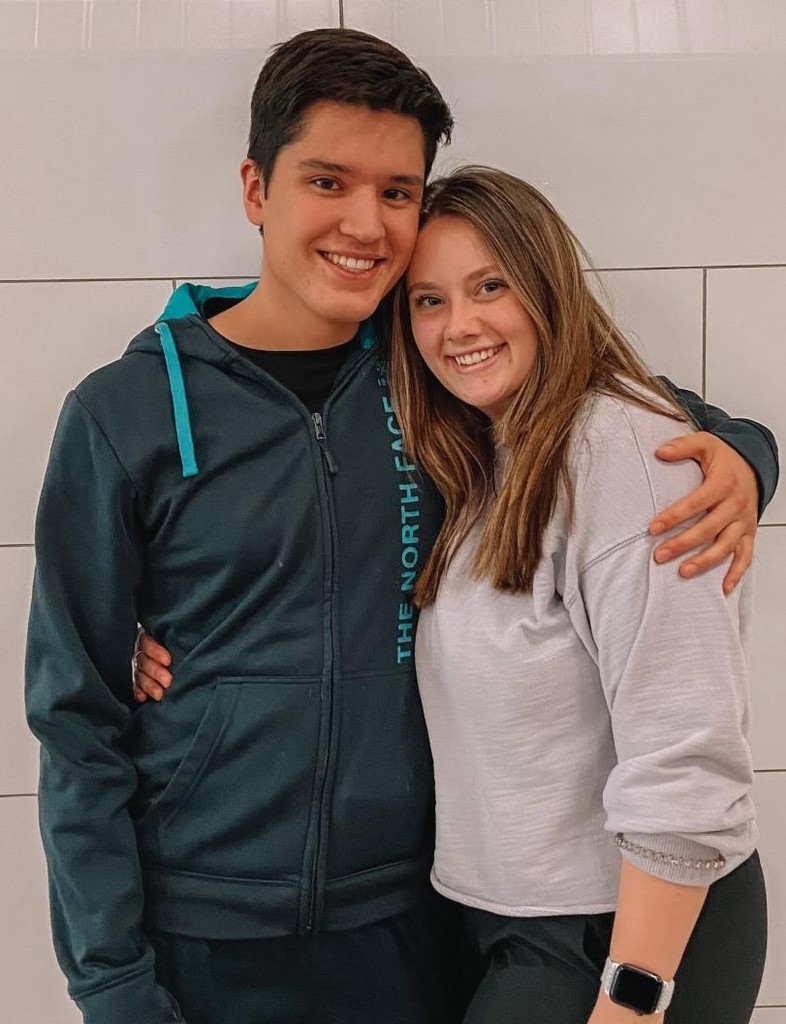 Thank you so much to everyone who volunteered for the National Aviation Day Celebration today at SHS! We had over 200 students attend, and we had very positive feedback from the students. It was a wonderful opportunity for them to converse with aviation professionals and engage in STEM activities. A big thank you to our volunteers including: Socorro Civil Air Patrol Socorro Sheriff's Office NM Department of Homeland Security & Emergency Management PHI Air Medical NMT Upward Bound Math & Science NMT Team Drone NM MESA Student Volunteers (from Capps and UBMS)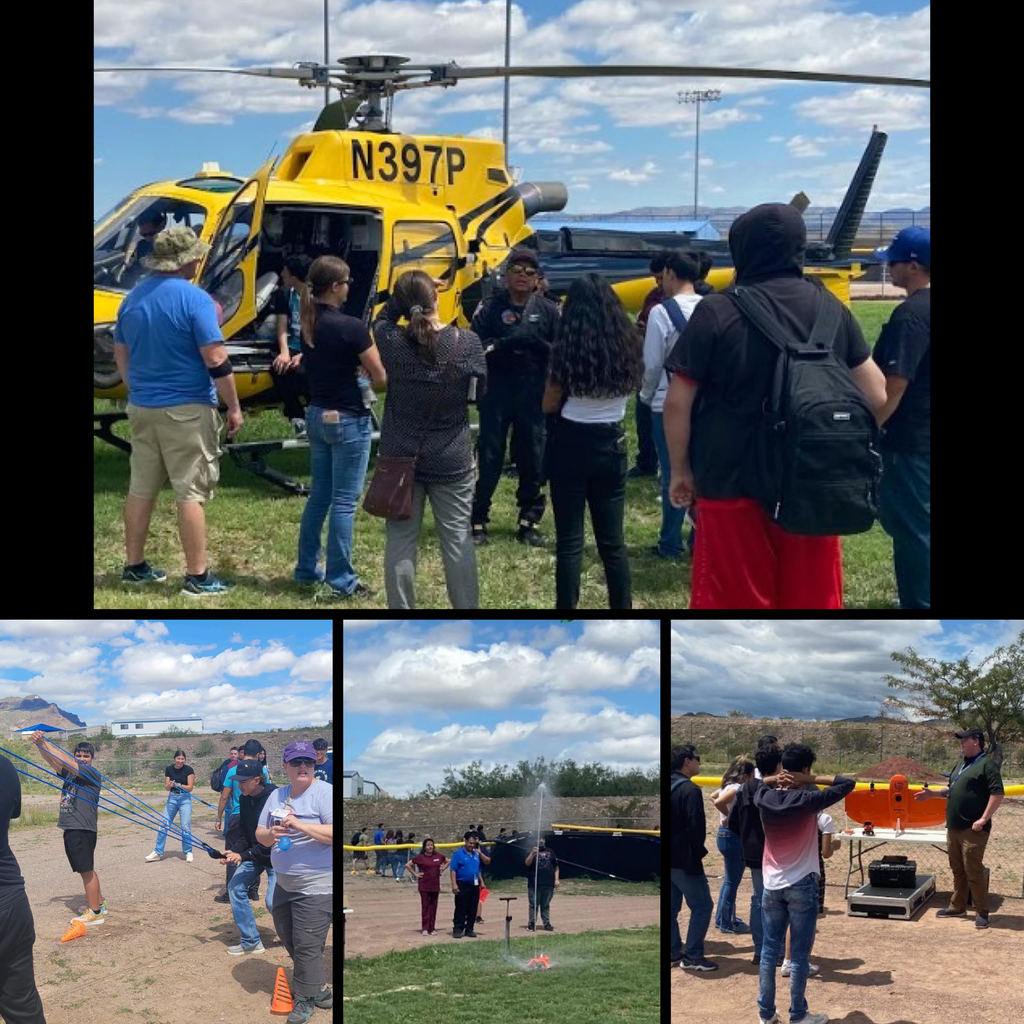 This #warriorwednesday SCS would like to recognize Bonnie Hoke, District Controller. Bonnie has been with the District since 2006 and is always willing to step in where needed. In addition to her normal duties Bonnie has worked as a Substitute Bus Driver, Concession Manager and Food Service Grant Coordinator. Her work ethic and dedication to SCS make her an important part of our team. Thank you Bonnie, we appreciate all that you do for us! #raisingthebar #educatenurtureinspire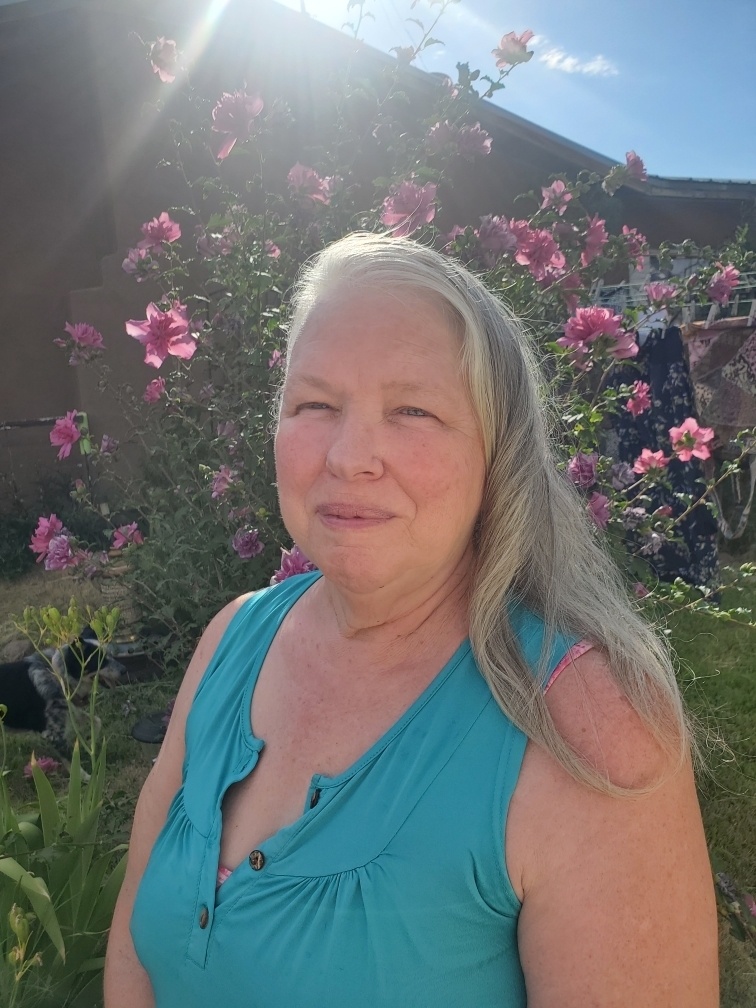 Warriors! Here is a weekly schedule of athletic events for the week of 8/15-20! Please go out and support you Warriors and Lady Warriors!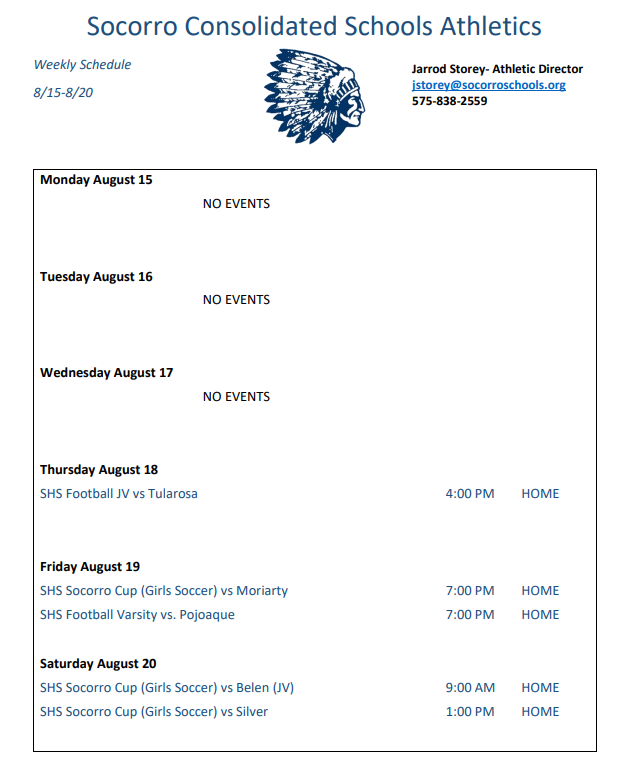 This week's #warriorwednesday is Samantha Vivian-Gonzales. Samantha is an #shsgrad #classof1999 and is a proud wife and mother of 5. Samantha has been with SCS for 11 years. She is the Peer Navigator for SCS's Project AWARE and was recently announced as the new GRADs Case Manager. This position gives her the opportunity to work with teen parents to help them find resources and to graduate from HS. Her optimism, willingness to always go above and beyond and dedicated work ethic make her a valuable asset to SCS. Her passion for helping kids succeed shines through in everything she does. #educatenurtureinspire #raisingthebar #fosterpositivemindsets #onceawarrioralwaysawarrior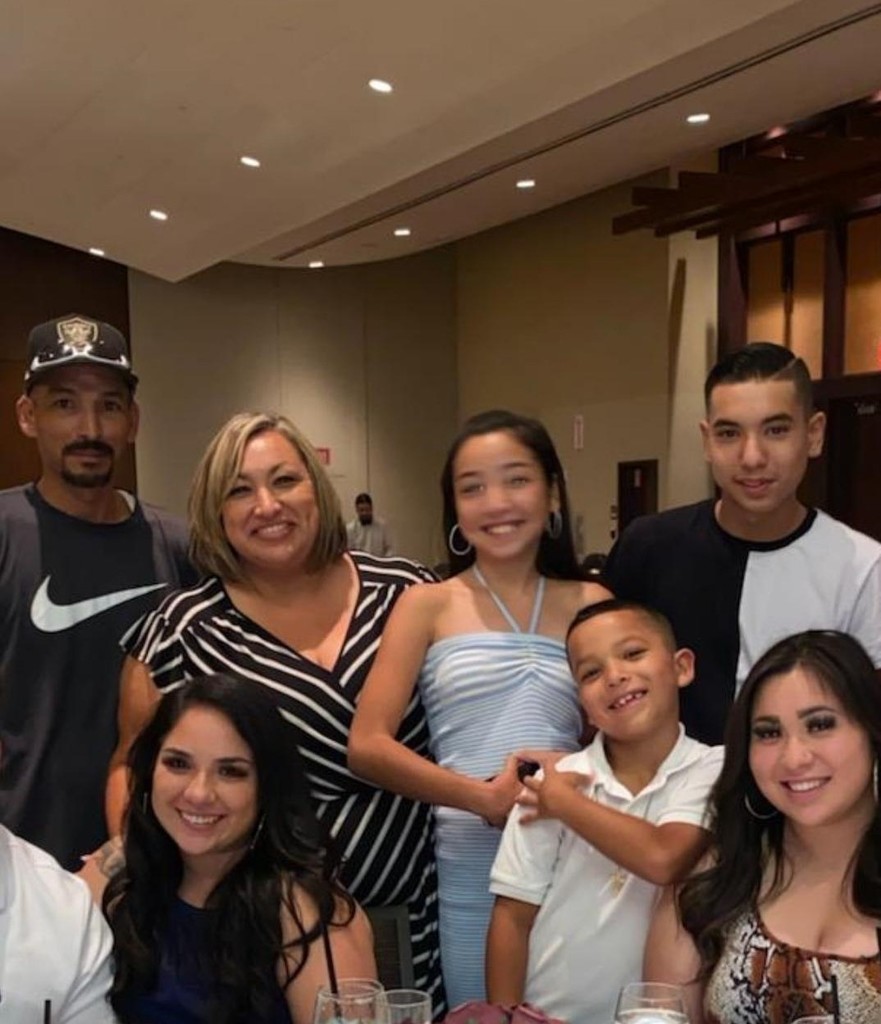 It's the 1st day of school and #warriorwednesday is back! Today we want to introduce you to our new administrators: JONI MAULDIN- Assistant Principal SHS Joni is an #shsgrad #class of 1993. She is in her 22nd year with the District, she taught English at both SMS and SHS, coached Lady Warrior Volleyball, and most recently was the Dean of Students at the HS. She is excited for this opportunity and new chapter in her career. PENNY WHARTON- Principal San Antonio Elementary Penny has been in education for 31 years, she has taught 1st through 6th grade, served as an Academic Coach, Principal, Director of Curriculum and Instructional Facilitator. She has been retired for 4 years, but is ready and excited to work with kids again! She believes that it's all about the students and providing them with the knowledge, skills, and critical thinking they need in order to become a productive, successful person! JARROD STOREY- Athletic Director and Information Officer Jarrod has been teaching Middle School since 2016, and has coached both baseball and football during that time. He is a referee, officiating collegiate football in the Rocky Mountain Athletic Conference, as well as, high school basketball. He is excited to be a Warrior and wants to continue the successes of the Warrior Athletic Program. JULIE SMITH- Director of Student Support Services Julie is starting off her 31st year in education, serving as a Teacher, Principal and Director. Most recently she was a contracted Educational Diagnostician for SCS. She feels blessed to be a part of the Socorro Consolidated Schools and work with such an amazing staff! AL OTERO- Assistant Principal SMS Al recently transferred from SHS to SMS to start off his 27th year in education. He was an Art Teacher for the first 21 years of his career before moving into Administration at the Secondary Level. SCS is lucky to have him and excited for him to make an impact at SMS!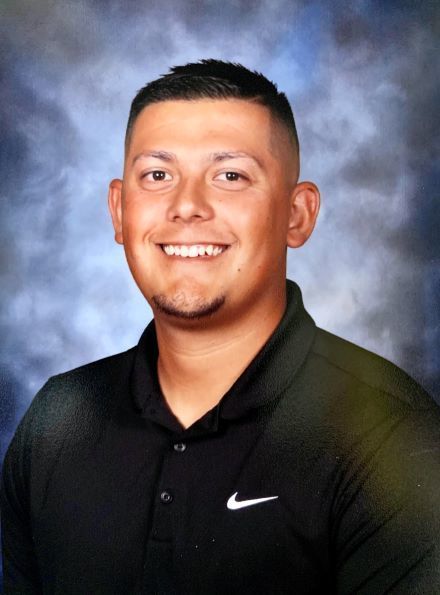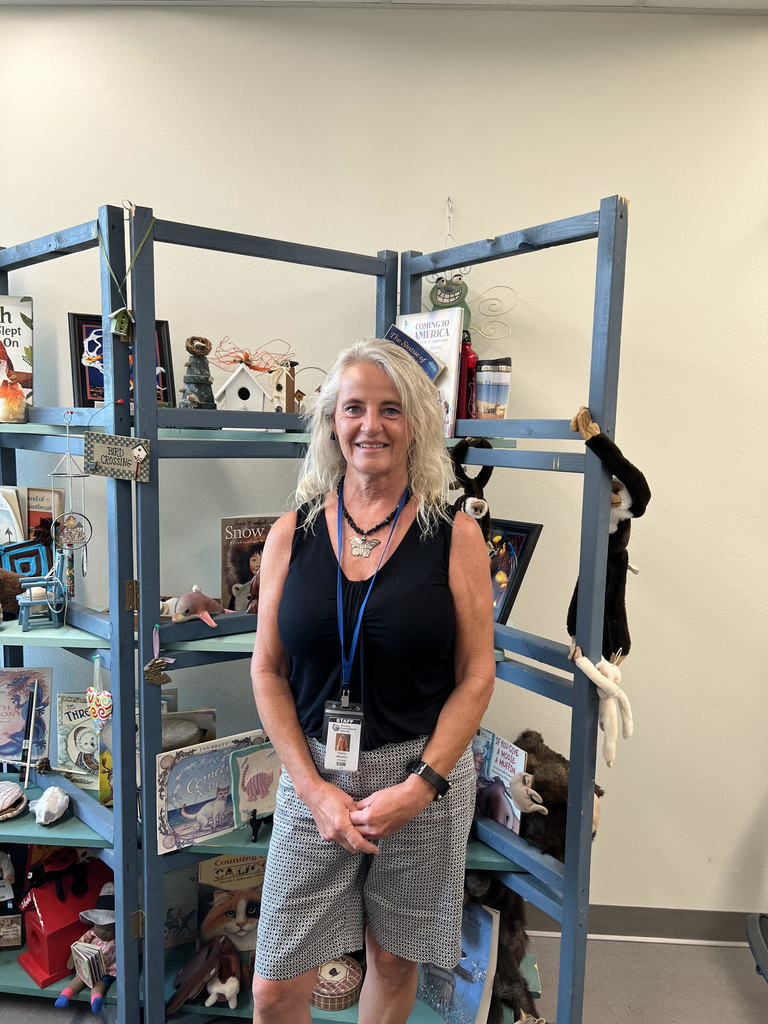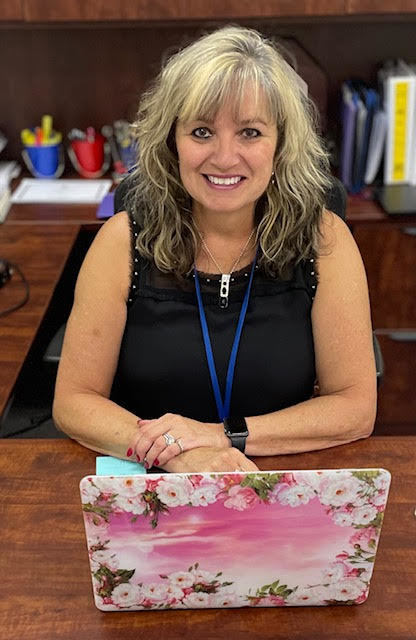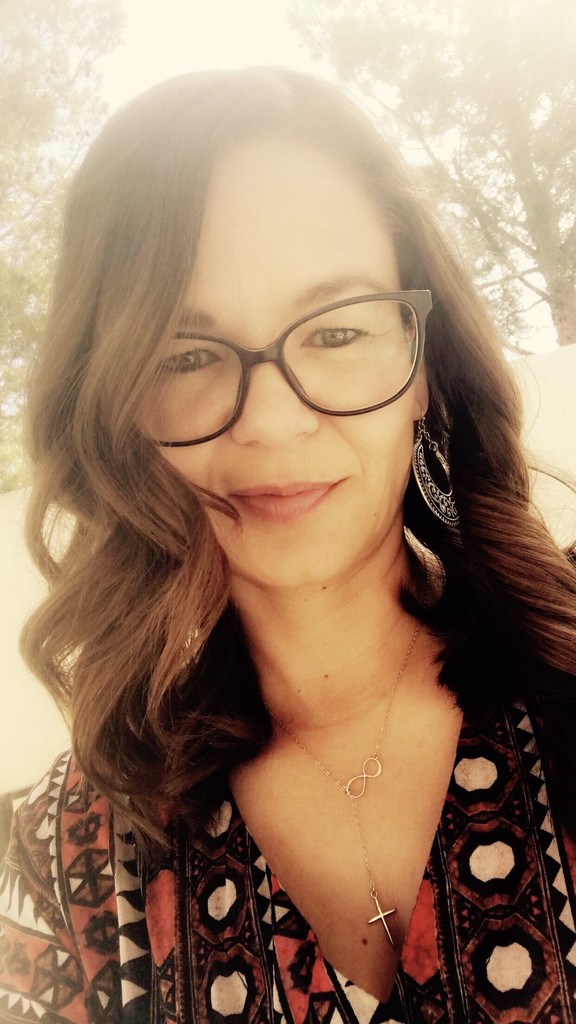 Do you have what it takes to be a SHS cheerleader?! Stop by practice to see if it is for you! Open to grades 8-12! All you need to join is your physical, copy of insurance card, and concussion course for students certificate. Grades from last semester will be used to determine eligibility!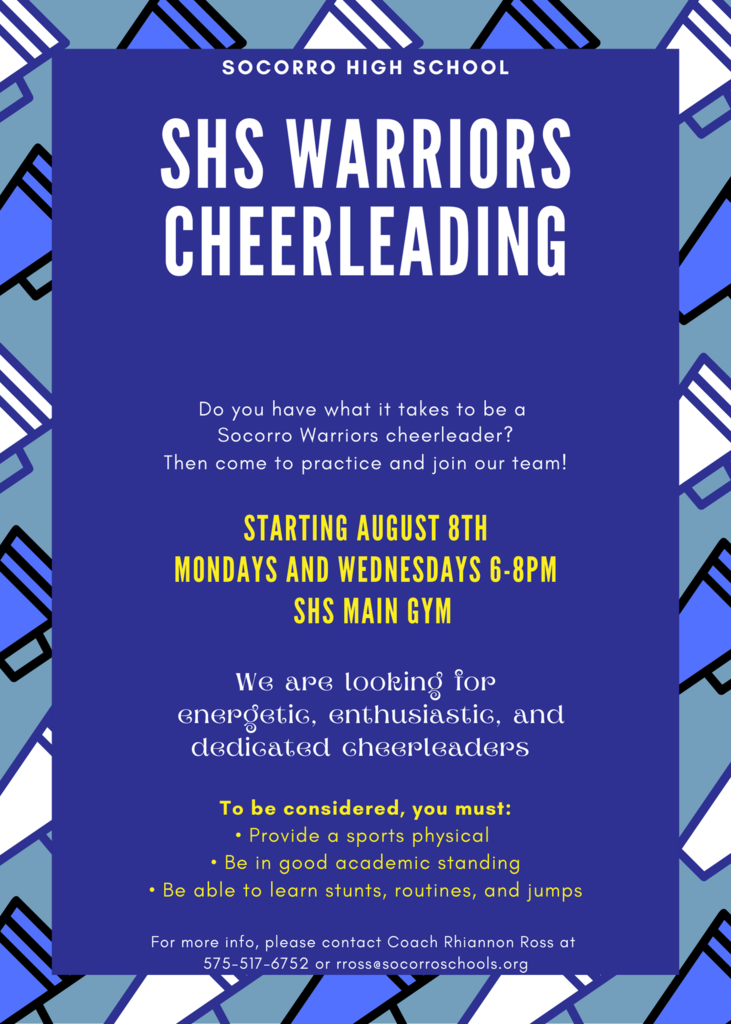 SCSD Families! Here is the calendar for the 22-23 school year if you missed it! First day for students is this Wednesday, August 3rd! Make sure you look at your school's website to find supplies needed for your child! School times: Elementary- 7:55-2:55 Middle School 8:05-3:42 High School- 8:20-3:57
Attention SCSD families! The '22-'23 school year is on the horizon! With that being said, the bus routes are ready for you to view! Bus routes can be found on our school website under the transportation page on the district webpage, or you can follow this link:
https://drive.google.com/file/d/1NphldSlbWCpgzMARQ_a-o7AXL6NaxMqg/view
If anybody has any questions they can call Jenny at 575-838-3117 or Danny at 575-418-5386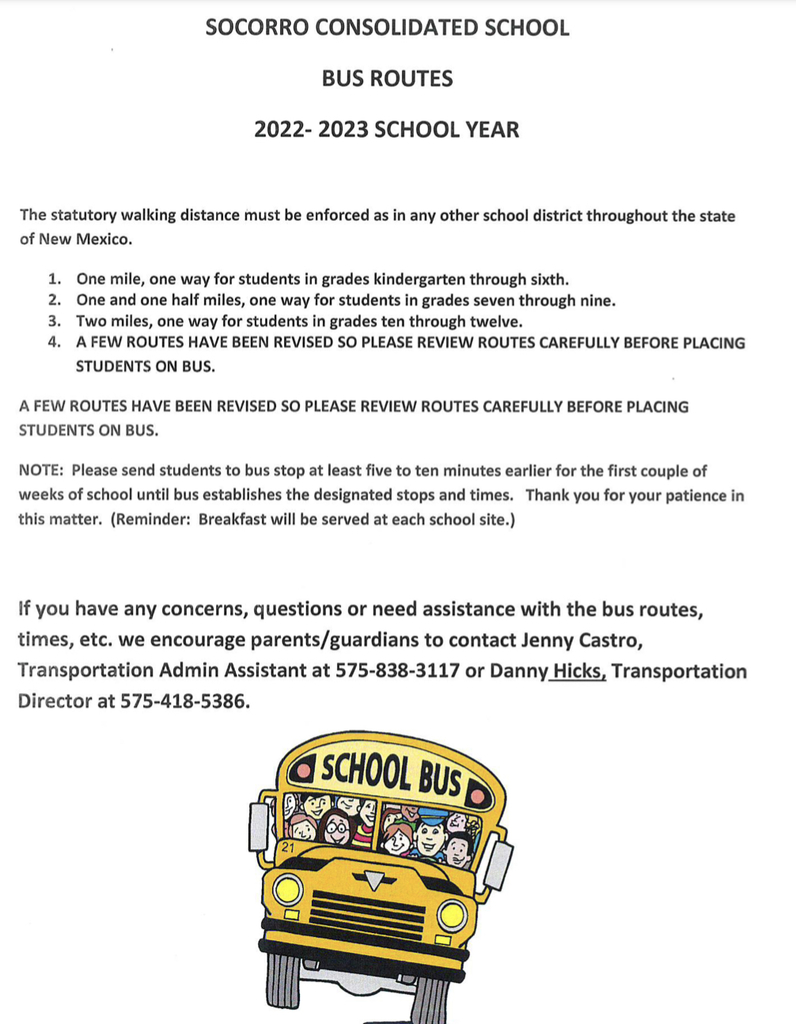 It is normal to experience a wide range of emotions following a loss. Children who are having serious problems with grief and loss may show one or more of these signs: an extended period of depression in which the child loses interest in daily activities and events inability to sleep, loss of appetite, prolonged fear of being alone acting much younger for an extended period excessively imitating the dead person believing they are talking to or seeing the deceased family member for an extended period of time repeated statements of wanting to join the dead person withdrawal from friends sharp drop in school performance or refusal to attend school If you see any of these signs, additional support is recommended. You can contact your child's school, primary doctor, mental health provider, or a hotline for help. Dial 9-8-8 to reach the NM Crisis and Access Line.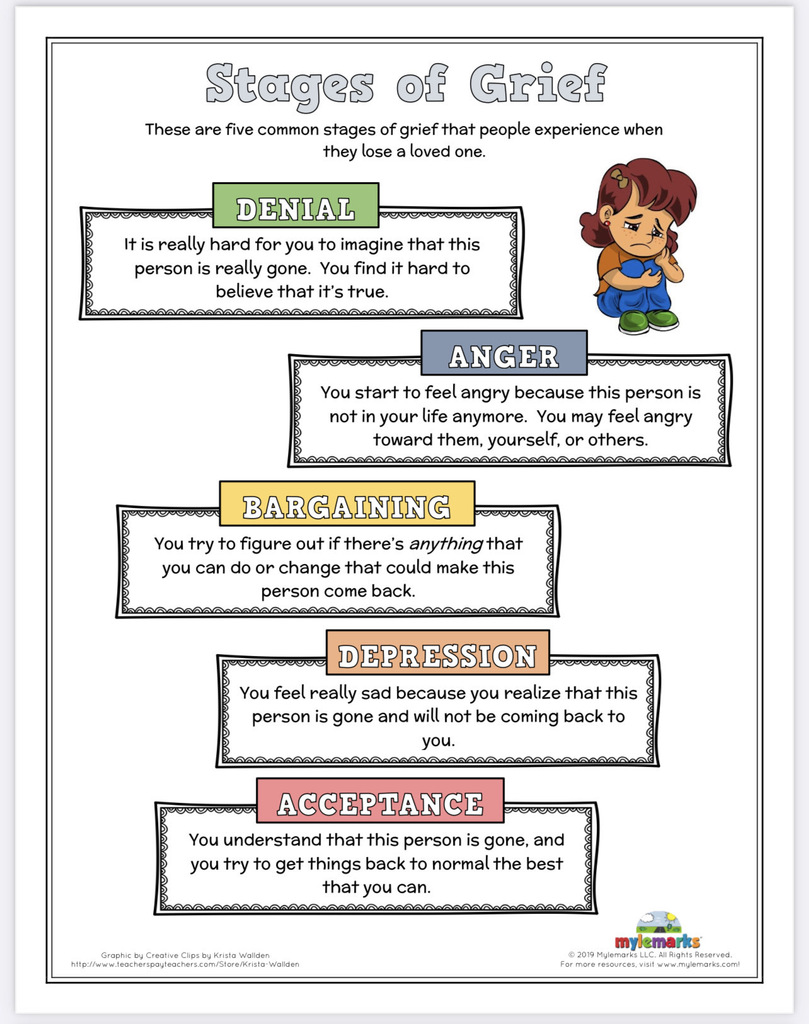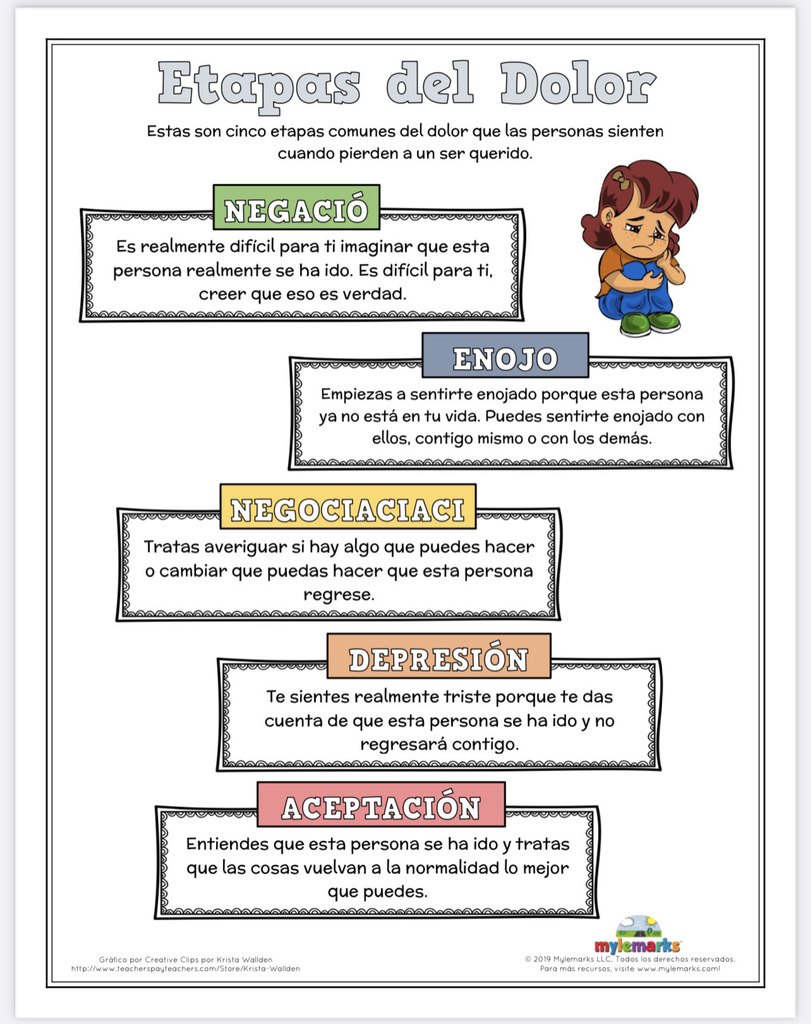 Socorro Consolidated Schools is heartbroken to learn of the loss of one of our SMS students. Our hearts are with the family, friends, and all of those affected by this loss. Counselors are available 24/7 via the Warrior Wellness Line at 575-838-2543 for anyone needing support. Counselors will be available at SMS on Tuesday 7/26 from 2-4 PM to provide support to anyone who needs it. Please join us if it would be helpful for you. Other hotlines: 988 - Directs your call to the NM Crisis and Access Line 741741 - text any word to this number to start an anonymous chat. You can also use Facebook messenger, search Crisis Text Line. We are Resilient. We are Warriors. 💙🤍🖤