This #warriorwednesday SCS would like to recognize Alexis Montoya, Administrative Assistant at Midway Elementary. Lexi is an #shsgrad #classof2018, and has been with the District for the past three years. She is compassionate, dedicated and continually finding ways to build the learning environment to benefit our children. Lexi makes sure that each interaction that she has welcomes, encourages and motivates. If something needs to be done, she will do it; no questions asked. Lexi participates in all of the family nights and special events put on by the school and makes all attempts to interface with the community to shine a light on Midway Elementary. The staff and students are lucky to have someone so wonderful as part of our SCS family! We love you Lexi!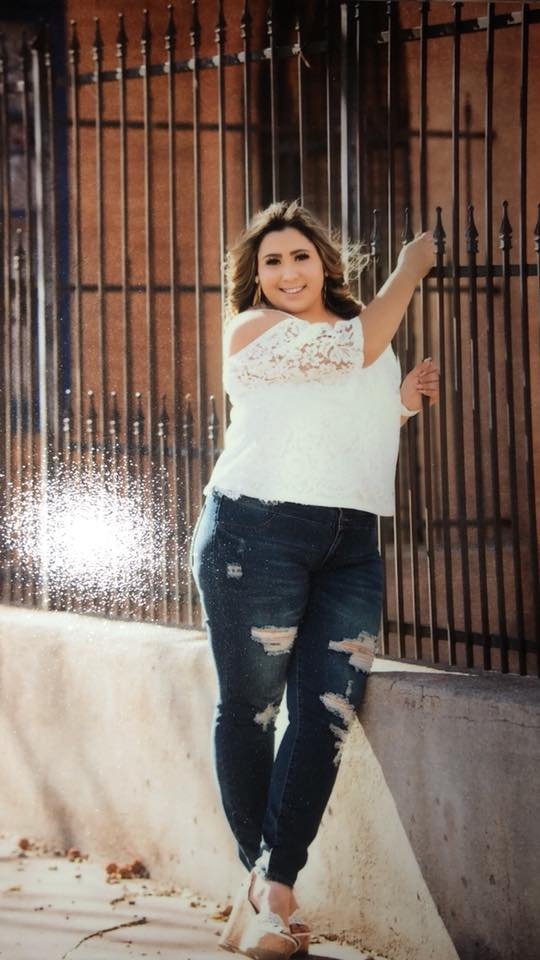 SOCORRO CONSOLIDATED SCHOOLS FREE CHILD FIND SCREENING What is Child Find Screening? Early childhood Child Find developmental screening helps a school district identify children who may benefit from district and community resources available to help in their development. Socorro Consolidated Schools is currently conducting screenings of preschool-aged children whose parents/guardians have concerns about the child's speaking, understanding of language, learning, eye-hand coordination, movement, socialization, behavior, or other concerns.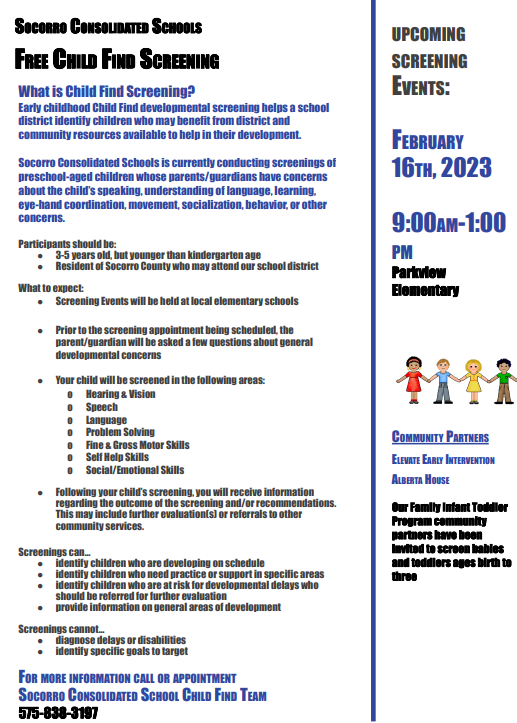 Attention Warrior Basketball fans: Because the girls only have a varsity we have adjusted the district schedule to save on costs in transportation and officials. The boys and girls will play at the same location each night for district. Home Games: 2/2 vs Cobre 2/7 vs Hot Springs 2/9 vs Hatch Away games: 1/31 @ Hatch 2/14 @ Hot Springs 2/16 @ Cobre Game Times on the schedule. Go Warriors! Let's pack the gym each night!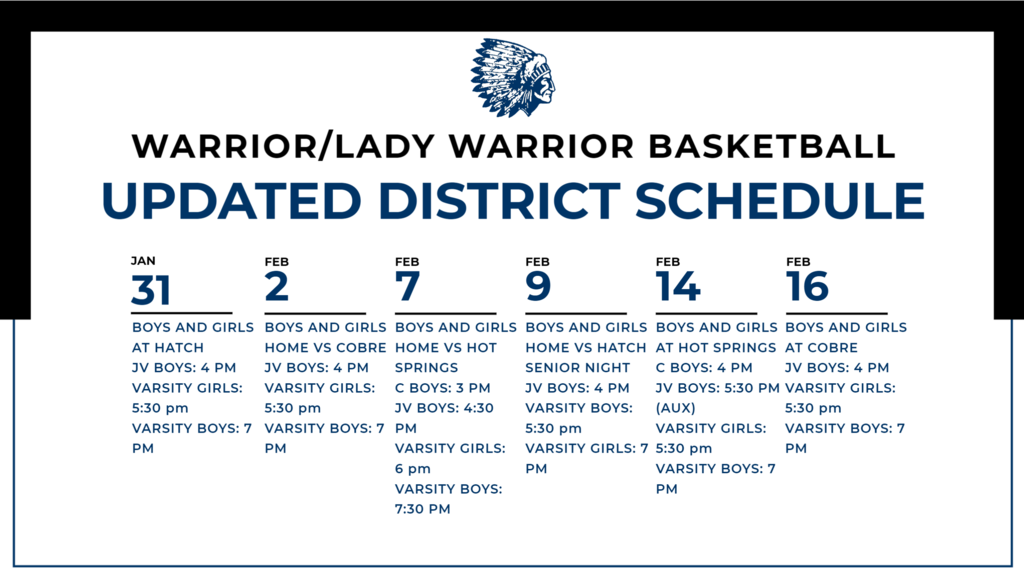 It's #warriorwednesday and today SCS would like to recognize Victoria Lewis, Educator Fellow at Parkview Elementary. Victoria has worked for Parkview Elementary School for almost 1 year, and came to the school as part of the state's initiative to grow our own teachers. She has worked with children for 6 years in various programs and classrooms.Victoria always knew she wanted to work with children, and it became her dream to be a teacher. She attended college at NMSU and now NNMC pursuing a bachelor's degree in early childhood education. She is from Grants, NM and has lived in Socorro for about a year and a half. In her spare time she enjoys reading, writing, painting, and spending time with my dogs and friends. #educatenurtureinspire #raisethebar #positiverelationships
Due to icy and snow packed roads in some areas of the district, the district has made the decision to go on a 2 Hour Delay. Buses and schools will run 2 hours later than normally scheduled. If anything changes you will be notified as soon as possible. Be safe and warm this morning!

This #warriorwednesday SCS would like to recognize Paula DeWeese, Administrative Assistant at Sarracino Middle School. Paula is in her 14th year with the District and during that time has worked as a Technologist and Administrative Assistant (at Zimmerly and Parkview Elementary Schools). She is detail oriented and very precise. We love her "can-do" attitude and she has been a wonderful addition to the SMS staff. #educatenurtureinspire #raisethebar

This #warriorwednesday SCS would like to recognize SHS Attendance Administrative Assistant, Sandra Bustamante. This is Sandra's 2nd year with the District. She is an #shsgrad and a proud mother of three and grandmother of seven. She returned to Socorro in 2021 after more than 25 years in the Pacific Northwest to be closer to family. Sandra goes above and beyond her job duties at SHS, constantly accepting new responsibilities or tasks to keep herself busy. Her kind smile greets every staff member, student and family that enters SHS and she is always offering a helping hand. In her free time Sandra can be found cheering on her grandchildren at a multitude of different sporting events, walking her dog, crocheting, baking or cheering on her Seattle Seahawks or Los Angeles Lakers! #onceawarrioralwaysawarrior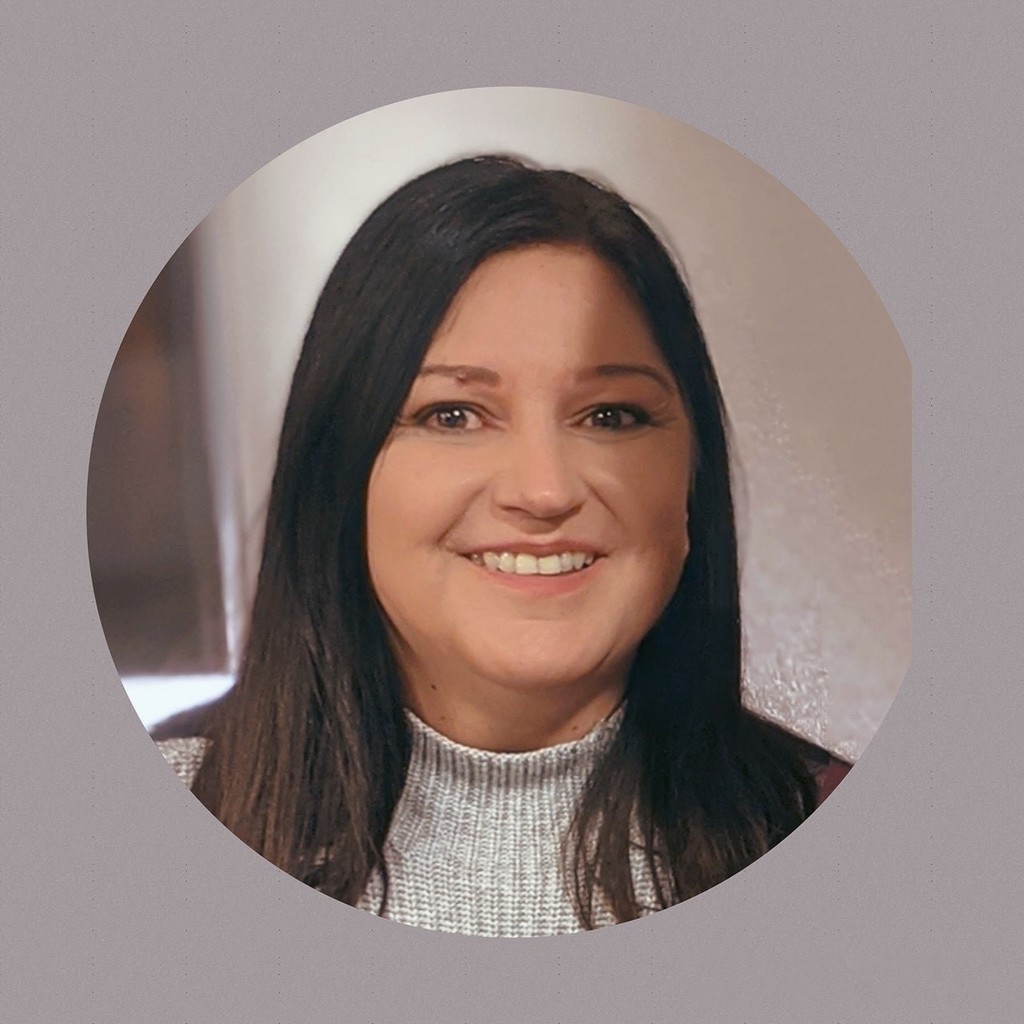 SCS would like to say THANK YOU to Socorro Walmart for the donation of clothing to our schools. We will be organizing the items and delivering to our schools to be distributed to students in need. If your child has immediate needs, please contact your school site. We would also like to thank Samantha Vivian-Gonzales with our Project AWARE Program for organizing the donation and our Maintenance Department for moving all of the items to our offices to be sorted.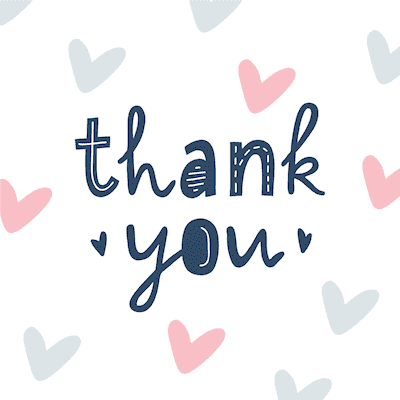 Happy New Year from SCS to each and everyone of you in our Warrior family! Looking forward to more success in 2023! #GoWarriors🏹🏹🏹

We would like to use this #warriorwedneday to wish all of our students and staff a safe and happy Winter Break. Tomorrow, 12/22/22, is the final school day before break begins and students will return on 1/9/23. SCS students can call 575-838-2543 at any time for supports, including social emotional and food or clothing needs. We can't wait to see everyone in the new year! #educatenurtureinspire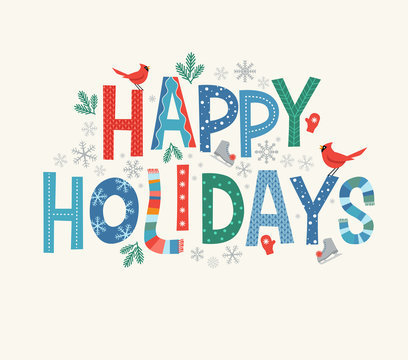 The #warriorwednesday SCS would like to recognize Laurie Capps, our Gifted/IEP Facilitator. This is Laurie's 5th year with the District and her 24th year in education. This year she was asked to take on additional duties as the IEP Facilitator for 6th and 7th grade students. She accepted without hesitation and these new duties have highlighted her strong organization skills, vast knowledge, attention to detail and solid work ethic. Laurie has been married to her husband Jimmy for 41 years and together they have 3 sons and 6 grandchildren. In addition to spending time with her family, she enjoys baking, crafting and scrapbooking. Thank you Laurie for supporting our students! #educatenurtureinspire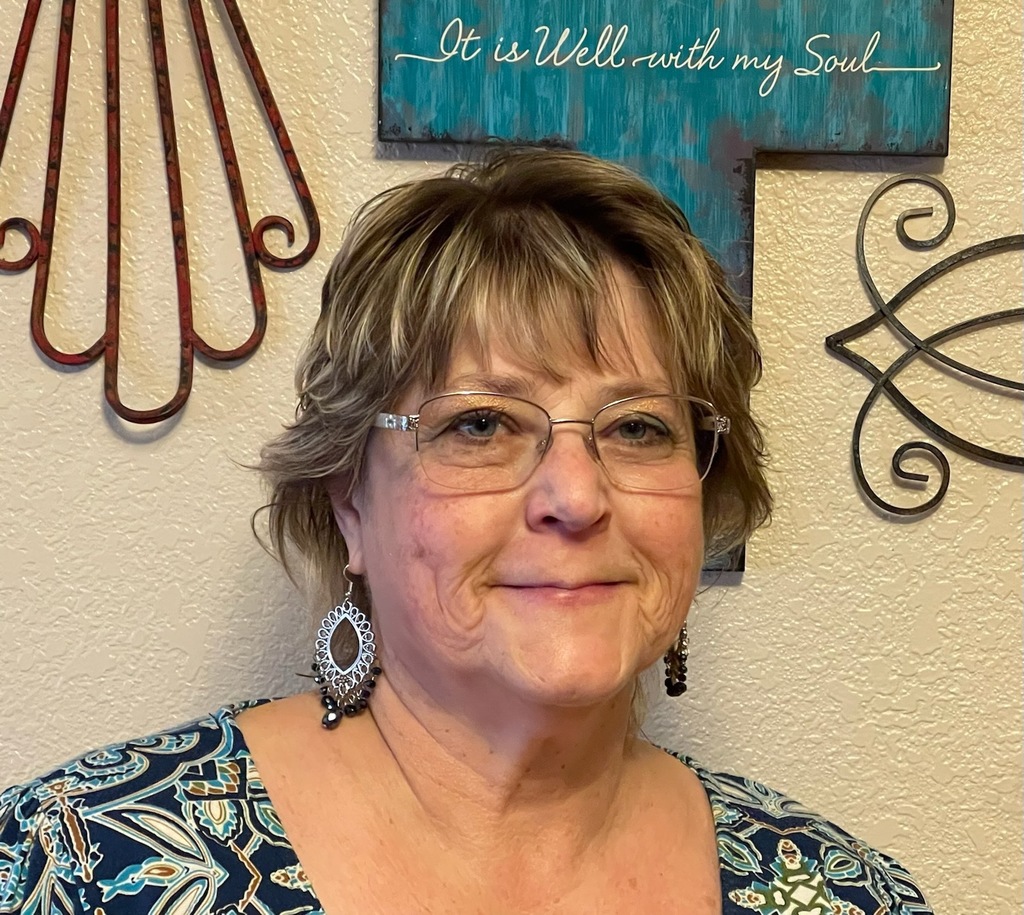 Today is #warriorwednesday and we would like to recognize Denise Cannon, SCS Assistant Superintendent/Federal Programs Director. Denise is in her 6th year with the District and her 31st year in education. She has previously worked as a teacher, academic coach, assistant principal and principal. She loves to cook and spend time with her children and grandchildren. Denise goes above and beyond every day for the staff and students of SCS, and is always looking for ways to improve. She is level-headed and thinks through her decisions to ensure that the best choice is being made for the entire District. Thank you so much for everything you do, we are blessed to have you! #raisethebar #buildrespectfulrelationships #fosterpositivemindsets #demonstrateprofessionalism #educatenurtureinspire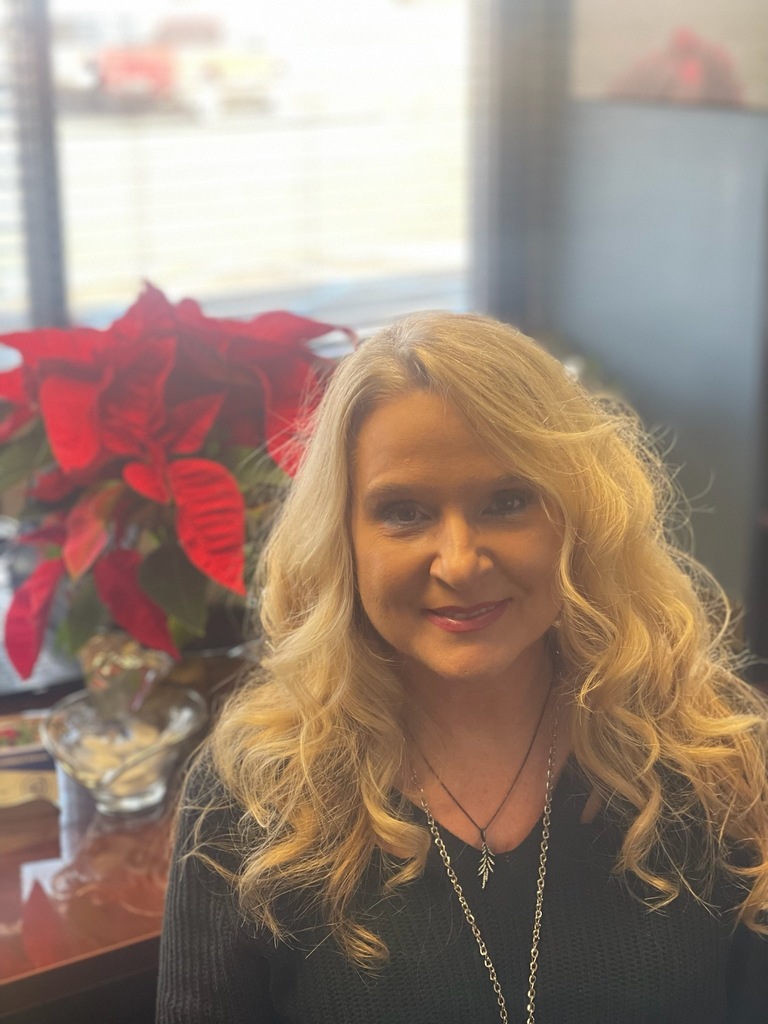 All childhood vaccines are currently available at the Los Lunas Public Health office Monday, Tuesday, Wednesday, and Friday mornings by appointment. Los Lunas Public Health Office 445 Camino Del Rey Suite A Los Lunas, NM 87031 ph:(505) 222-0960 fax:(505) 222-0988

Great opportunity for our students!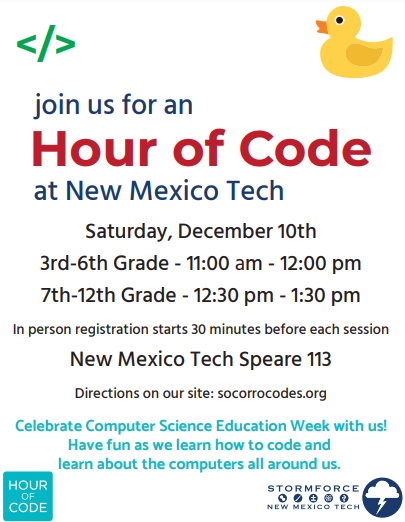 This week's #warriorwedneday is Madalyn Vaiza, Administrative Assistant at San Antonio Elementary. Anyone that has ever been to San Antonio Elementary, called SA on the phone, or has ever had the pleasure of meeting Madalyn finds it as no surprise that the staff of San Antonio overwhelmingly voted for Madalyn to be their staff member of the month! Madalyn always greets you with a smile and a listening ear! Ensures that her school is set and ready for any occasion! She does so much for the entire school! Thank you Madalyn for all you do and for being such a wonderful person! #onceawarrioralwaysawarrior #educatenurtureinspire

This #warriorwednesday SCS would like to express our gratitude for all of our staff, students and families. We are so lucky to have all of you and hope that you all have a great Thanksgiving break! #thankful #educatenurtureinspire #onceawarrioralwaysawarrior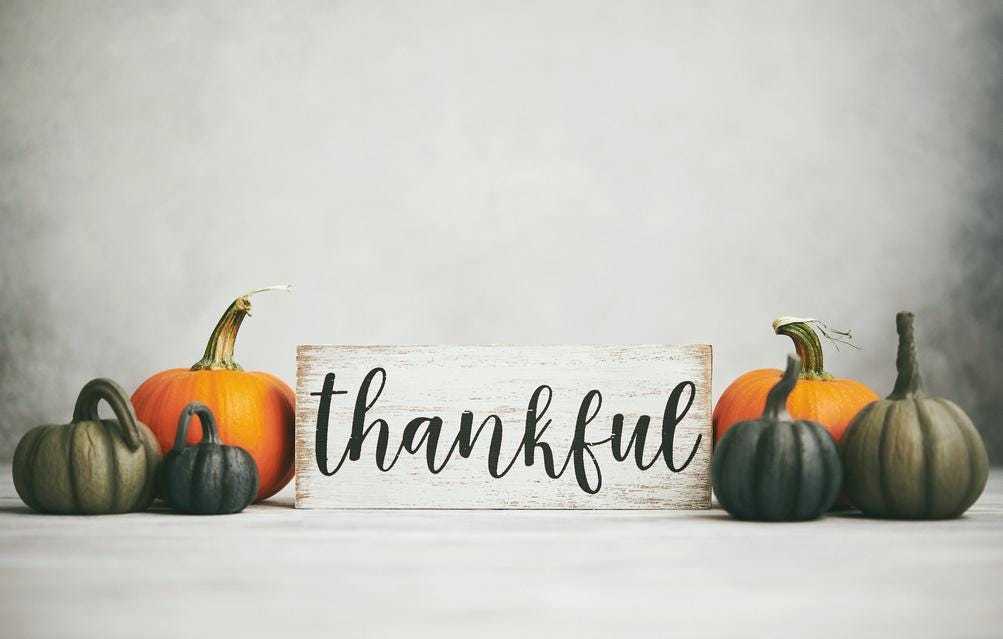 From SCS Health Office: To obtain your shot record, go to VaxViewNM.org You need the following information: Patient's name - (your child's name or your name) Date of Birth Cell phone number or email address If you are unable to access your shot record, contact your provider, your local public health office, or call NMSIIS help desk at 833-882-6454
When one season ends, another begins! Warrior basketball, wrestling, and swim gets rolling as early as this week! Here are the schedules for the basketball and wrestling. ALL HOME EVENTS FROM NOW ON WILL BE DIGITAL TICKETS ONLY. NO CASH AT HOME EVENTS. Tickets can be purchased in advance here or with card at the door:
https://gofan.co/app/school/NM8137
You can also purchase a season pass that will get you into all home events for the winter for only $60!!!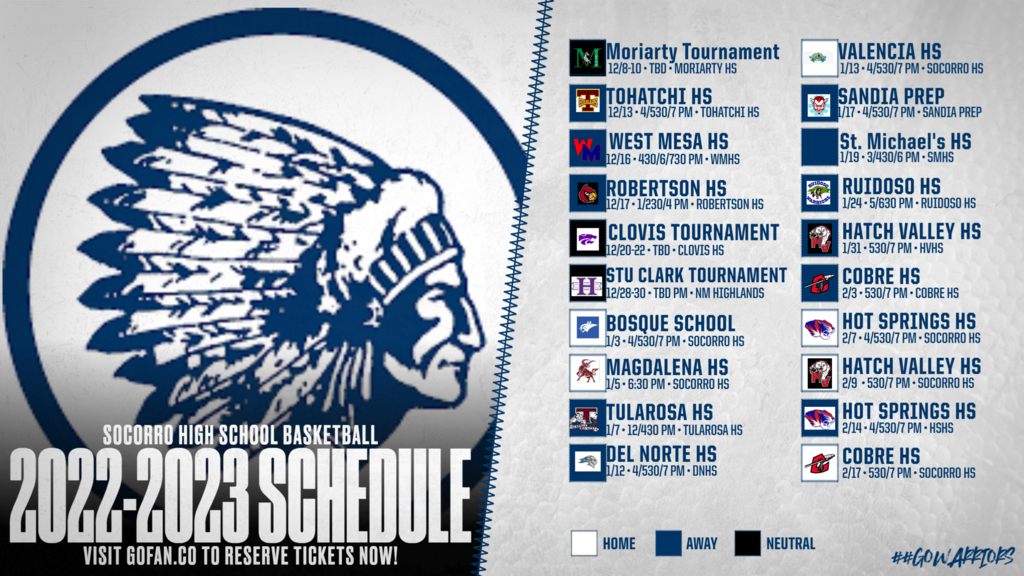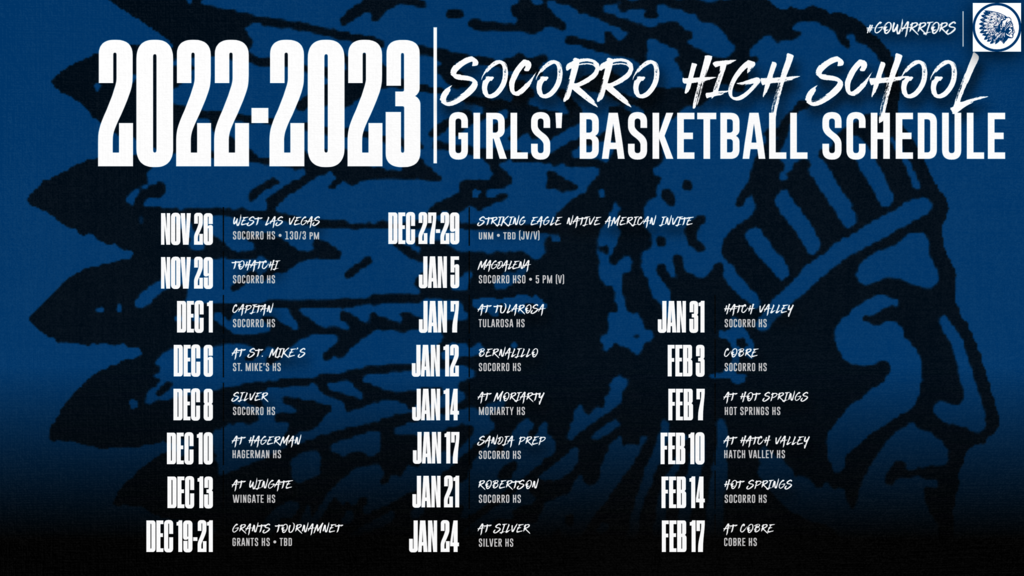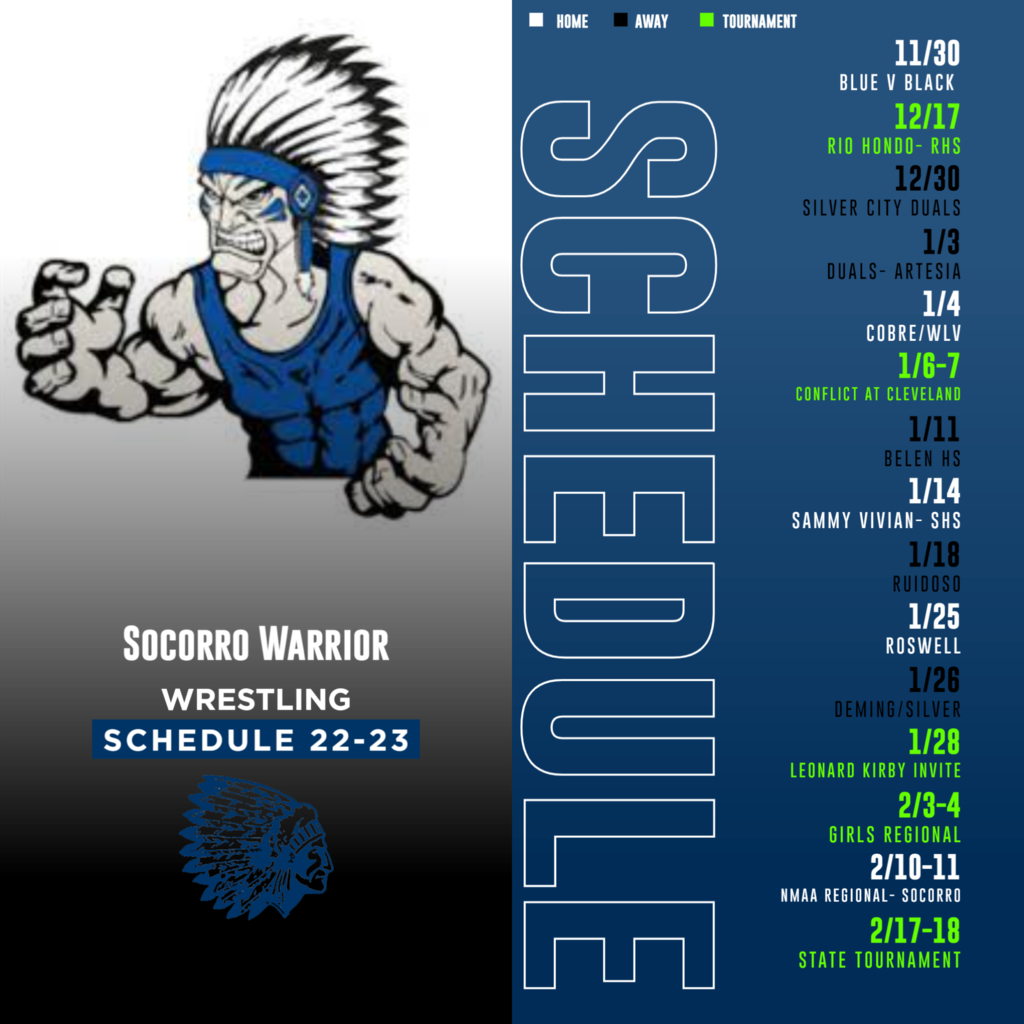 This #warriorwednesday SCS would like to thank our food service workers. We appreciate the hard work they put in all year to feed our students, and are so grateful for the extraordinary effort that they put in for our annual Thanksgiving lunch tradition. Thank you so much, SCS staff and students are lucky to have you!!! #raisethebar #educatenurtureinspire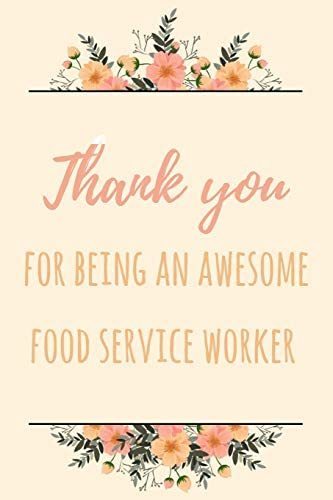 This #warriorwednesday, Socorro Consolidated Schools would like to recognize Alison Bjerke, STEAM Teacher at all three of our Elementary schools. Alison has been with the District for 3 years throughout her 7 year career. Alison goes above and beyond daily for the students of Socorro Schools, as she provides creative experiences (weekly) in the areas of science, technology, engineering, art, and math. Alison is passionate about giving her students the best she has to offer every day! She is always willing to lend a helping hand. The staff and students of SCS have been lucky to have such an amazing teacher!