UPDATED Time Change SHS Volleyball open gyms start Mon June 5th! Any incoming 8th grader-Senior can attend! Any questions can be directed to new head coach Jaden Jones! Go Warriors 🏹🏹🏹

It's out last #warriorwednesday of the 2022-2023 school year and we want to use it to recognize our staff members of the year. Dana Etscorn, a HS ELA teacher, was named the Certified Employee of the Year. Dana is always willing to try something new to engage students and support them where they are by providing the structure and support necessary to expect outstanding achievement from each student. Bernice Anaya, a District Bus Driver, was named the Classified Employee of the Year. Bernice is always going out of her way to make sure the kids get where they need to be, she has always been able to change on the go and adapt to any situation. Bernice has even been known to get under the bus on the side of the road and fix a problem or two to get the kids home. Laurie Ocampo, Parkview Elementary Principal, was named the Administrator of the Year. She sets the tone for Parkview as a place of discovery and support. She is an extremely hard worker who keeps the halls of Parkview colorful and full of student work. Her leadership is the key to Parkview's success and her professionalism is an inspiration to all educators.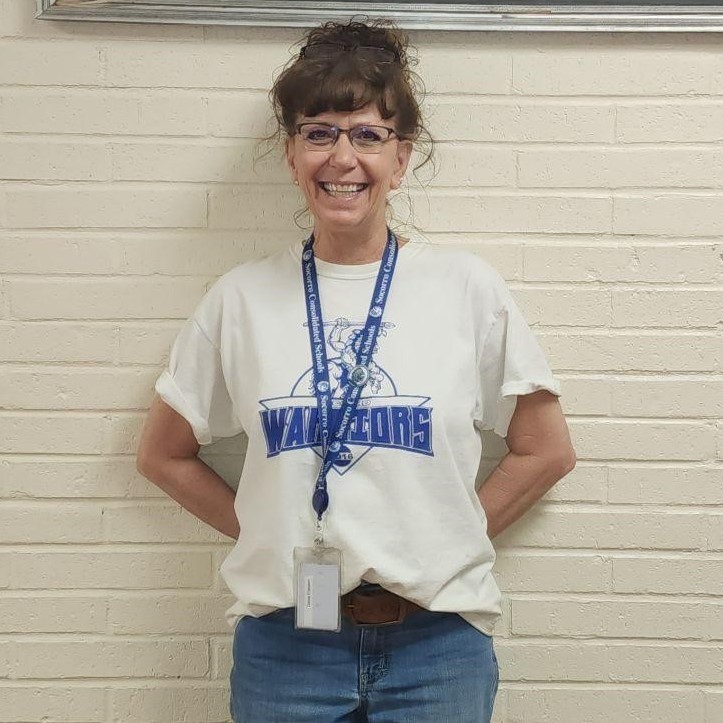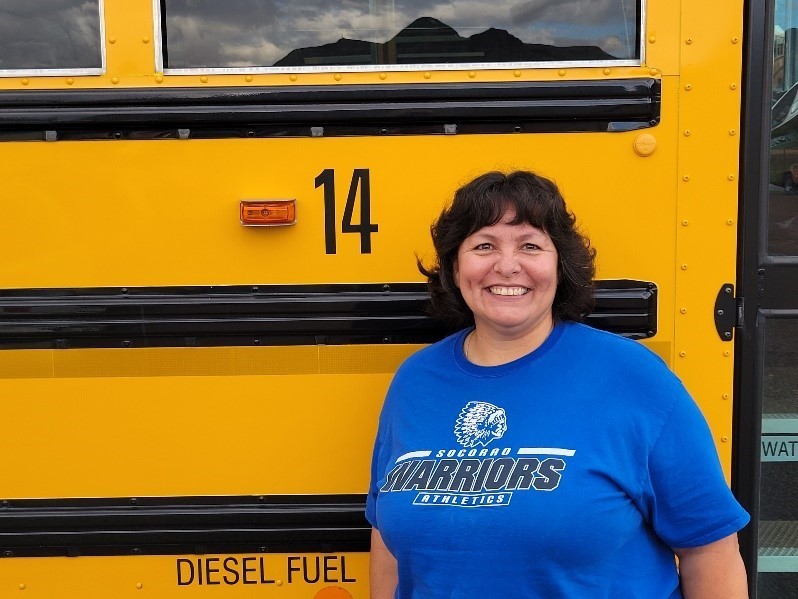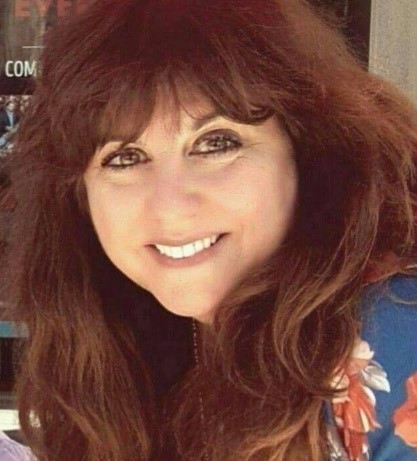 Little Warrior Volleyball camp being put on by former SHS star Marysa Ocampo this Friday and Saturday! Great opportunity for any child interested in volleyball as well as current players at SMS and SHS. All information located on the flyer.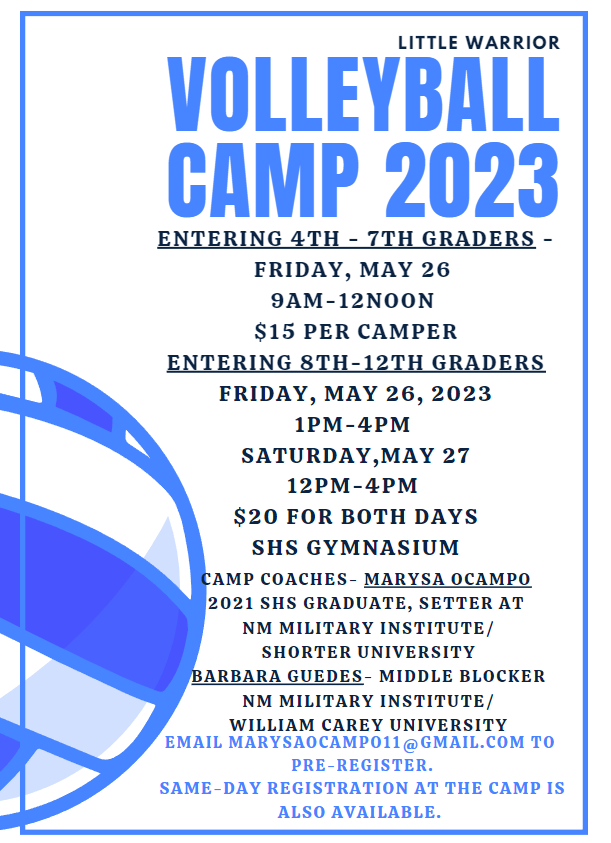 Attention all SCS 5th grade families. There will be an informational parent meeting this evening May 23rd at Sarracino Middle School for incoming 6th graders. Meeting will be held in the SMS library. The meeting will be from 5:30-6:30. Thank you and Go Braves!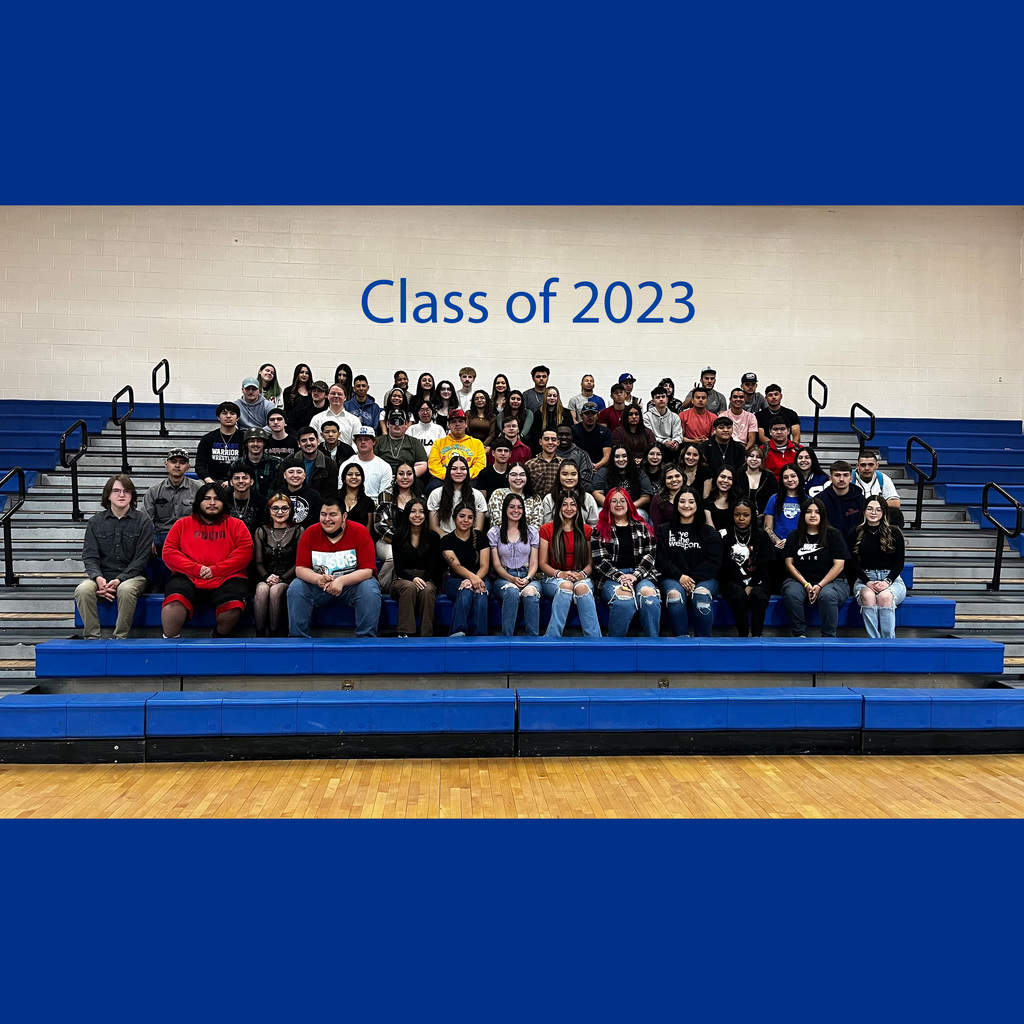 This #warriorwednesday SCS would like to recognize Anna Mae Fleming, Office Manager for the NM Grads Program. Anna Mae began working with the District as an EA in the early 70's and eventually transferred to District Office where she helped with payroll and accounts payable. She went on to become the Superintendent's Secretary and held that position for over 30 years. The GRADs program, which is a flow-through grant helping teachers who work with expectant and parenting teens across NM, is lucky to have her help keeping the program running efficiently. Anna Mae comes from a very large family and enjoys spending time with her family and making memories. She is married to longtime SCS educator, Nick Fleming, and has a daughter, Kathryn, and grandson, Braydon. #educatenurtureinspire #onceawarrioralwaysawarrior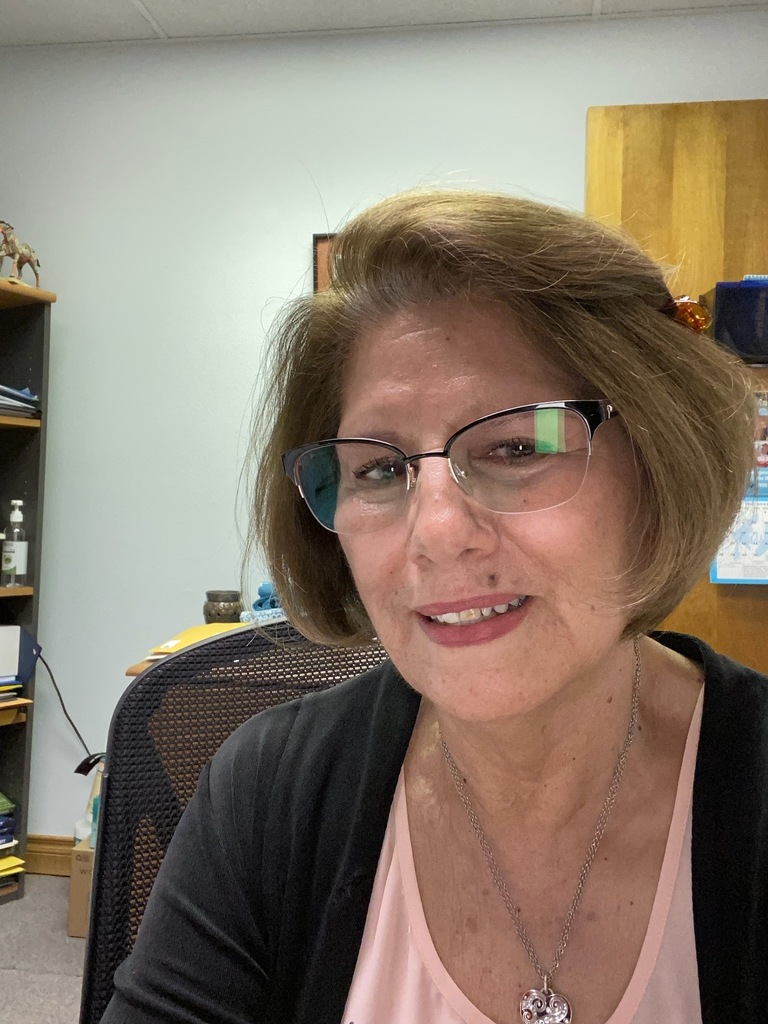 Socorro Consolidated Schools in concert with Southwest Foodservice Excellence announced today foodservice will operate throughout the summer serving free breakfast and lunch to all children/young adults between the ages of 1-18. This program allows SCS to serve free meals that meets dietary guidelines recommendations. This program starts May 26 with a pick up at Parkview Elementary School for a week's worth of breakfast and lunch as we transition from school meals to Seamless Summer. Pick up time is between 10:30 – 12:00 pm. People needing to make other arrangements please call Parkview's Kitchen at (575) 838-2546 between the hours of 7:30 am and 12:00 pm or District office (575) 835-0300 Monday- Thursday 8:00 am -4:00 pm. Starting June 5, 2023 - ending July 21, 2023 pickups will take place on Monday & Wednesday between 10:30 am and 12:00 pm. Monday pick up will include breakfast and lunch for 2 days. Wednesday pick up will include breakfast and lunch for 3 days. Pick up sites will be: NMIMT Macy Center, Clark Field picnic table area, Sedillo Park picnic table area, San Antonio Elementary School parent drop off area (4 th street, San Antonio), Midway Elementary School parent drop off area (9 Midway Road, Midway). Cottonwood Valley Charter School 201 Neel. If you need to make other arrangements, please call Parkview Elementary School kitchen at (575) 838- 2546 or District office (575) 835-0300. Thank you for helping us to make sure all children/young adults are well fed and prepared for the next school year. We look forward to seeing you during our Seamless Summer Feeding program days. Non-discrimination Statement: In accordance with federal civil rights law and U.S. Department of Agriculture (USDA) civil rights regulations and policies, this institution is prohibited from discriminating on the basis of race, color, national origin, sex (including gender identity and sexual orientation), disability, age, or reprisal or retaliation for prior civil rights activity. Program information may be made available in languages other than English. Persons with disabilities who require alternative means of communication to obtain program information (e.g., Braille, large print, audiotape, American Sign Language), should contact the responsible state or local agency that administers the program or USDA's TARGET Center at (202) 720-2600 (voice and TTY) or contact USDA through the Federal Relay Service at (800) 877-8339. To file a program discrimination complaint, a Complainant should complete a Form AD-3027, USDA Program Discrimination Complaint Form which can be obtained online at: USDA Program Discrimination Complaint Form, from any USDA office, by calling (866) 632-9992, or by writing a letter addressed to USDA. The letter must contain the complainant's name, address, telephone number, and a written description of the alleged discriminatory action in sufficient detail to inform the Assistant Secretary for Civil Rights (ASCR) about the nature and date of an alleged civil rights violation. The completed AD-3027 form or letter must be submitted to USDA by: (1) mail: U.S. Department of Agriculture, Office of the Assistant Secretary for Civil Rights, 1400 Independence Avenue, SW, Washington, D.C. 20250-9410; or (2) fax: (833) 256-1665 or (202) 690-7442; or (3) email:
program.intake@usda.gov
This institution is an equal opportunity provider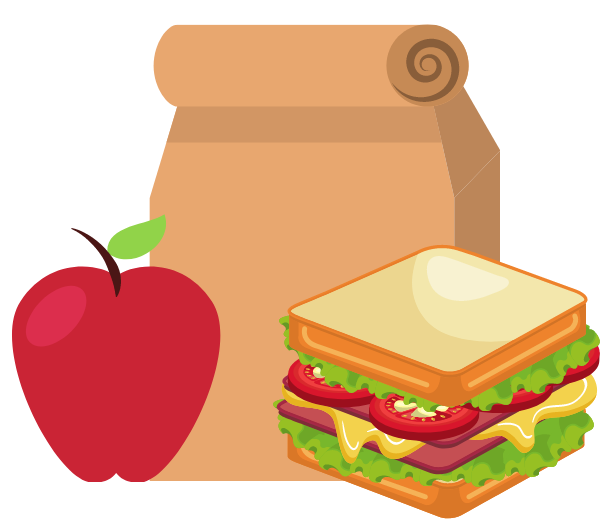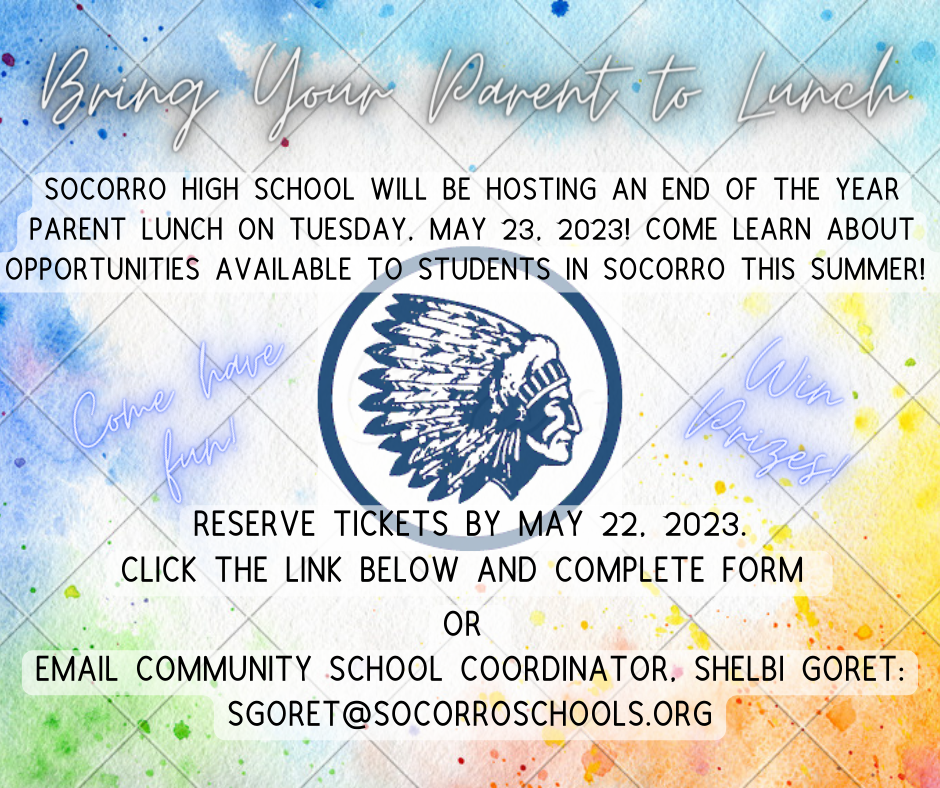 SCS is proud to recognize the Socorro High School #classof2023 Valedictorian, Reyna Alvarado, for this week's #warriorwednesday! Throughout her HS career Reyna participated in volleyball, softball and Upward Bound. She plans to attend CNM and then UNM where she will pursue a Bachelor's Degree in Business. And, on top of all of her accomplishments, Reyna is an outgoing, friendly and helpful person. Congratulations Reyna, SCS is so proud of you and is excited for your future. #educatenurtureinspire #shsgrad #onceawarrioralwaysawarrior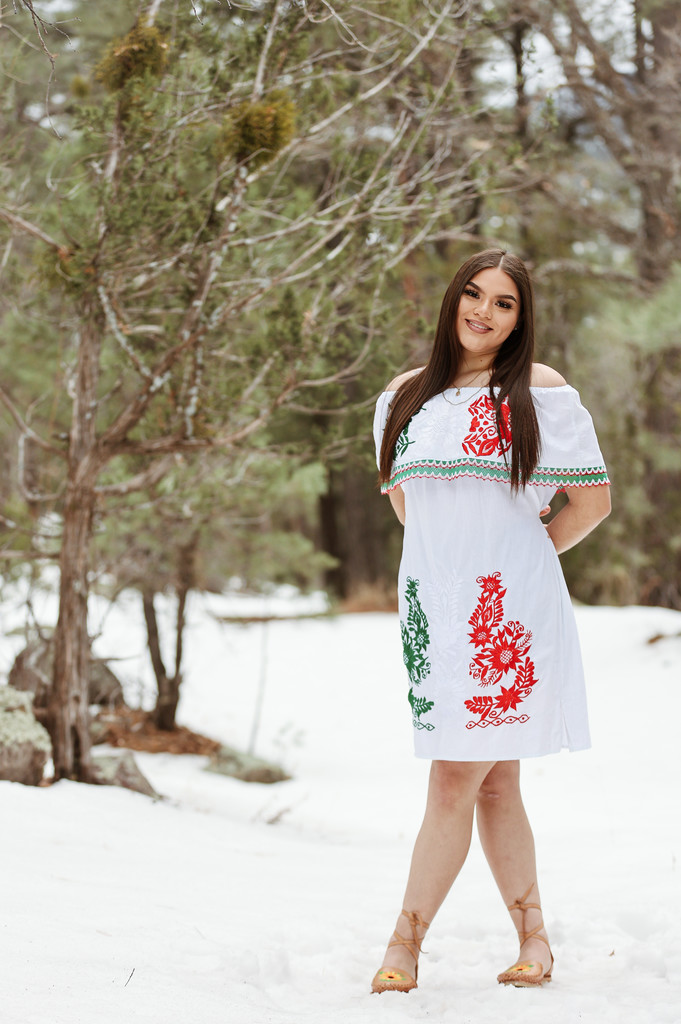 Attention Warrior fans! Your State Champion Lady Warrior golf team and State Runner-up Warrior golf team will be making their way into town around 7:30 and we would love to line the California Street celebrating their accomplishments! Go Warriors! 🏹🏹🏹

Today is National School Lunch Hero Day and SCS would like to thank all of the food service workers that help to feed our students! #educatenurtureinspire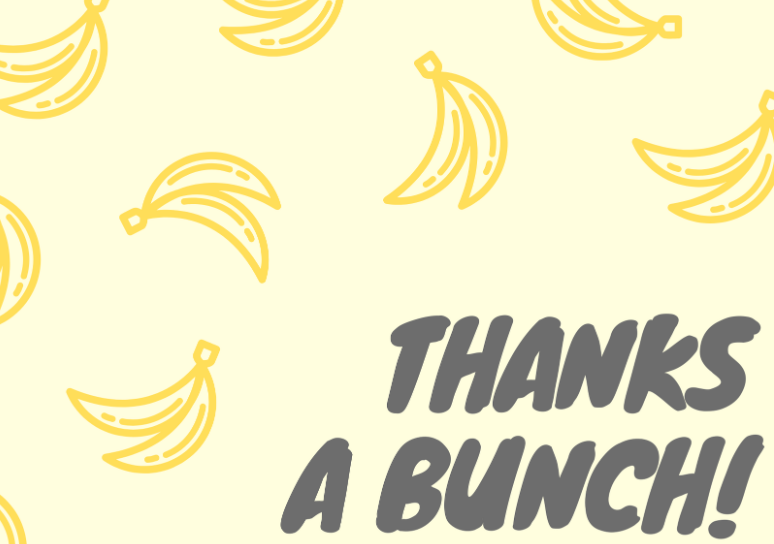 The SCS Board of Education is hosting a roundtable on Tuesday, May 9, 2023 from 3pm to 5pm. The meeting will be held at District Office at 700 Franklin Street in Socorro, NM. The purpose of the meeting is to discuss the budget for FY24. A quorum of the board will be present but no action will be taken.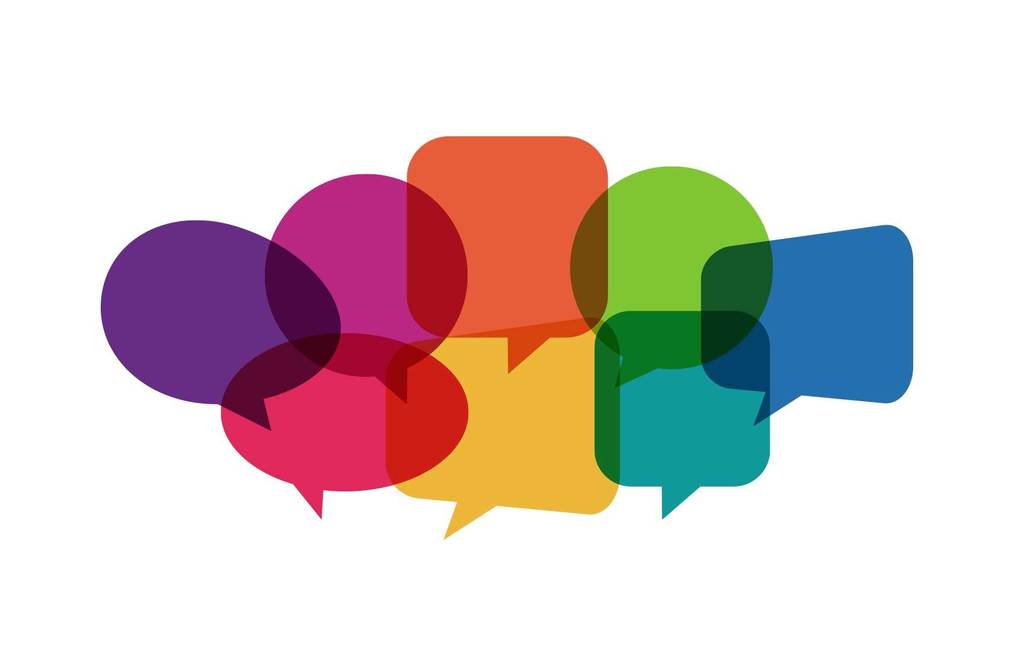 This #warriorwednesday SCS would like to congratulate the Socorro High School #classof2023! We are so proud of our seniors and can't wait to see where the future takes them!!! #educatenurtureinspire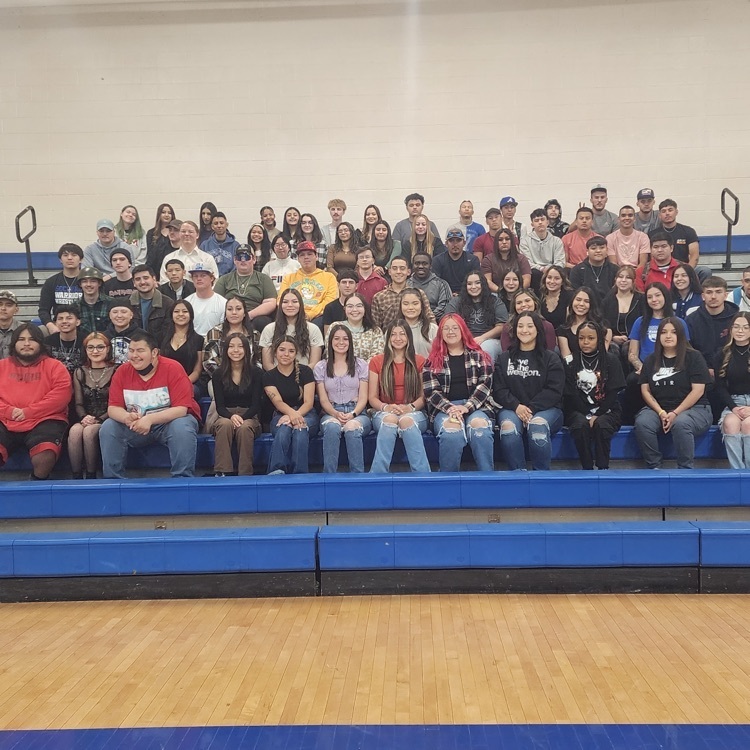 For today's #warriorwednesday SCS would like to thank all of our administrative professionals. They work behind the scenes (and in the front offices) to keep our District running smoothly and efficiently. We have an amazing team and are lucky to have each and everyone one of you! Thank you for all you do for our staff and students!!! #educatenurtureinspire #buildpositiverelationships #raisethebar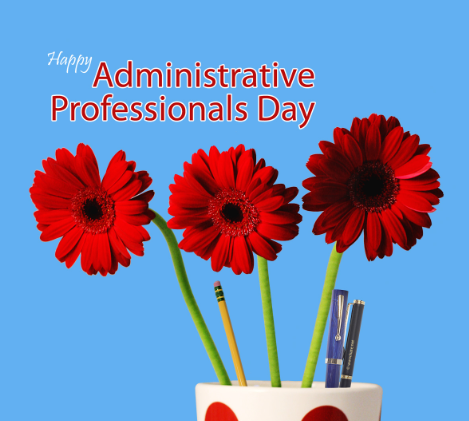 LEGAL NOTICE REQUEST FOR BID (RFB) SOCORRO CONSOLIDED SCHOOLS PSYCHOLOGY SERVICES RFB NO: FY 2023-0002 The Socorro Consolidated Schools is requesting formal proposals for Psychology Services to improve the school performance of special education students identified as having serious emotional or behavioral disabilities through evaluation and therapeutic interventions A copy of the RFB can be obtained from the District's website at
https://docs.google.com/document/d/1pLMIQhYml9gtYd93aL2R3Uce7n1UvWSNxlbLK0MtmK0
. This website will be updated with documents during the procurement process. For example questions/answers… Proposals must be received no later than Monday, May 8, 2023 by 1:00 PM Local Time. Late proposals will not be accepted. For assistance, contact Bonnie Hoke at
bhoke@socorroschools.org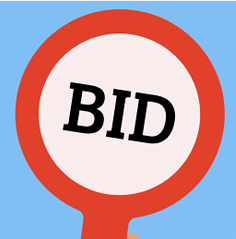 Socorro Schools meets with NRAO Engineers Rob Selina and Ephraim Ford to discuss how SHS can tailor programs to prepare students for the exciting new VLA project coming to Socorro County soon!
Class of 2023 Senior Countdown Events: Senior Field Day - Friday, April 21 - City of Socorro Sports Complex Senior Field Trip - Wednesday, April 27 - Meow Wolf Prom - Saturday, April 29th - City of Socorro Convention Center Senior Scholarship/Awards Night - Wednesday, May 3, 6pm - SHS Gym Baccalaureate Mass - Sunday, May 7, 10am - San Miguel Church Finals Week - May 8-11, SHS Senior Signing and Sunset - Thursday, May 11, 5pm - SHS Commons Last day of school for Seniors - Thursday, May 11 Senior Parade - Friday, May 12, 4pm - California St Commencement Rehearsal - Friday, May 19, 9am - City of Socorro Rodeo Complex Commencement - Friday, May 19, 6pm - City of Socorro Rodeo Complex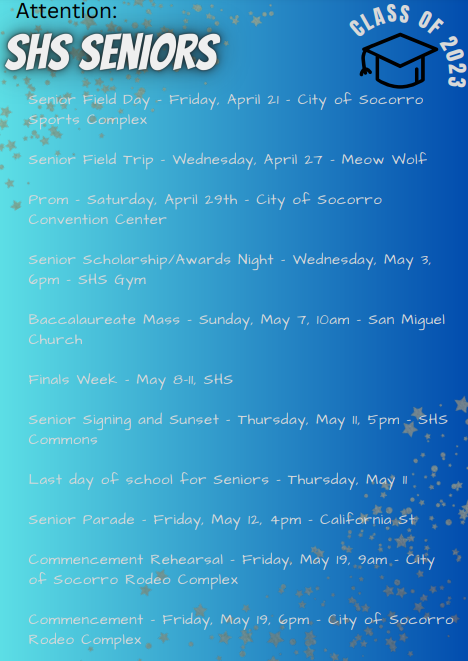 This #warriorwednesday SCS would like to introduce you to Ursula Chavez- Gonzales, the District's new English Language Learner Teacher. She will be providing support to students whose primary language is not English and working with teachers in strategies to better serve these students. Ursula has received her Bachelor's Degree in Education from ENMU and a Master's in Curriculum and Instruction from NMHU. She is certified to teach K-12 and is in her 23rd year in education. She has a true passion for working with EL Learners and is focused on helping each child progress in all areas of their development—academic, social, language. Ursula has been married for 25 years and has 2 sons. She enjoys reading, cooking, music, and spending time with friends and family. #educatenurtureinspire