National Aviation Day Celebration- Monday, August 22 (during advisory and lunch)

NM State Fair College and Career Pathways Field Trip- Wednesday, September 14, 8:30am-3:30pm

Please register for the State Fair Event here by 9/8/22.
Student Success Agency (SSA) Rally- Thursday, September 22, 11:10am-11:40am (during advisory, seniors only)

Family FAFSA Workshop- Wednesday, October 12, 2022, 5:00pm-6:30pm

Please register for the Family FAFSA Workshop here by 10/10/22.

College and Career Fair at Socorro High School- Monday, October 17, 2022, 8:30am-9:15am

Students must register for College Fair in advance with NMCAC. Two weeks before event, we will put a link to registration here.

GEAR UP Week- October 17, 2022- October 20, 2020

WNMU Campus Tour- Wednesday, October 26, 2022, 7:30am-6:30pm

Please register for the WNMU Campus Tour here by 10/20/22.

College Application Week- November 7, 2022- November 10, 2022 (tentative)

Family FAFSA Workshop- Wednesday, November 9 , 2022, 5:00pm-6:30pm (tentative)

Fall Student Leadership Conference- Monday, November 14- Friday, November 18 (tentative)

SFCC and IAIA College Campus Tour- Thursday, December 1, 2022, 7:30am-5:00pm

Please register for the SFCC and IAIA Campus Tour here by 11/20.

Cookies and Credit Scores- Wednesday, December 7, 2022, 4:00pm-5:00pm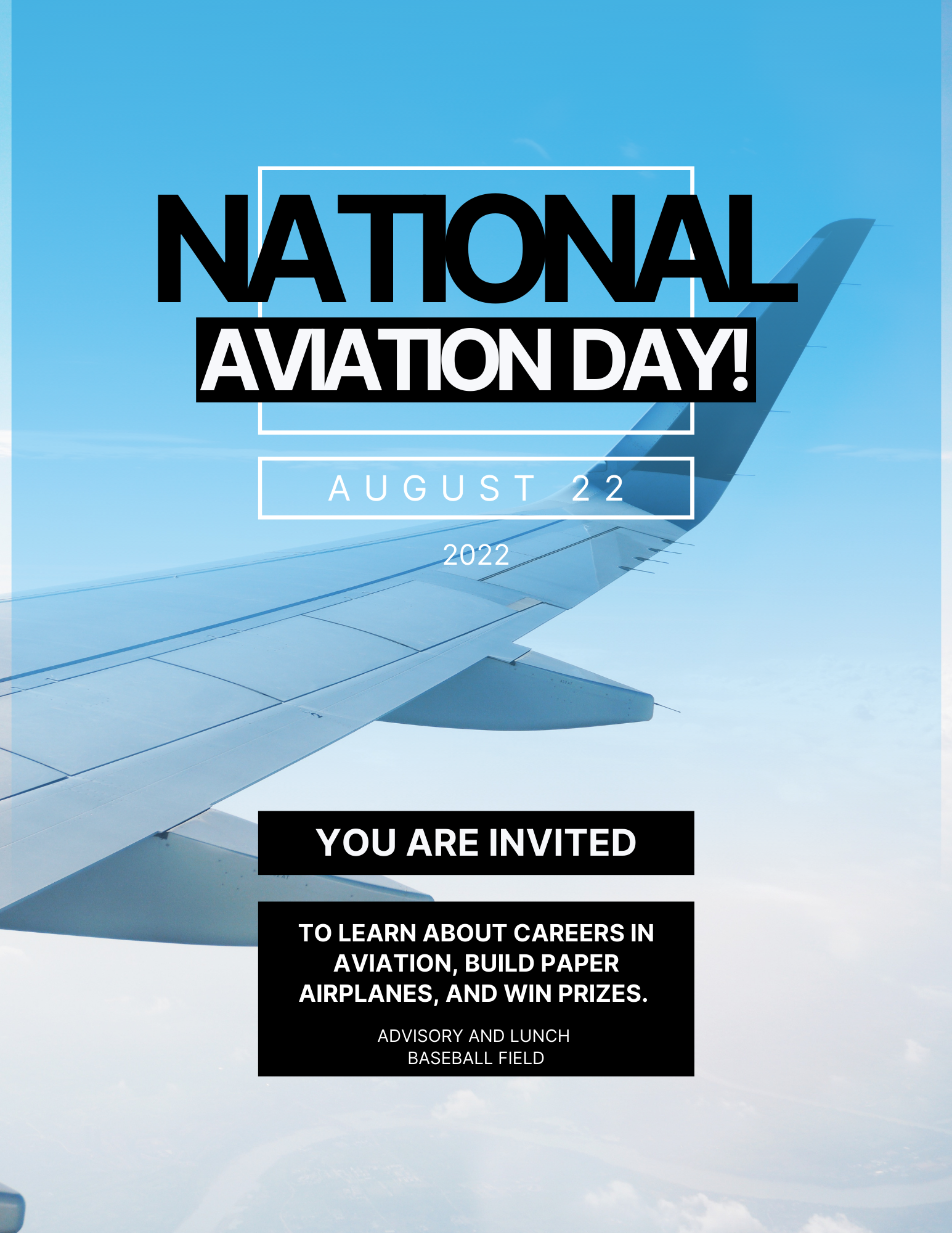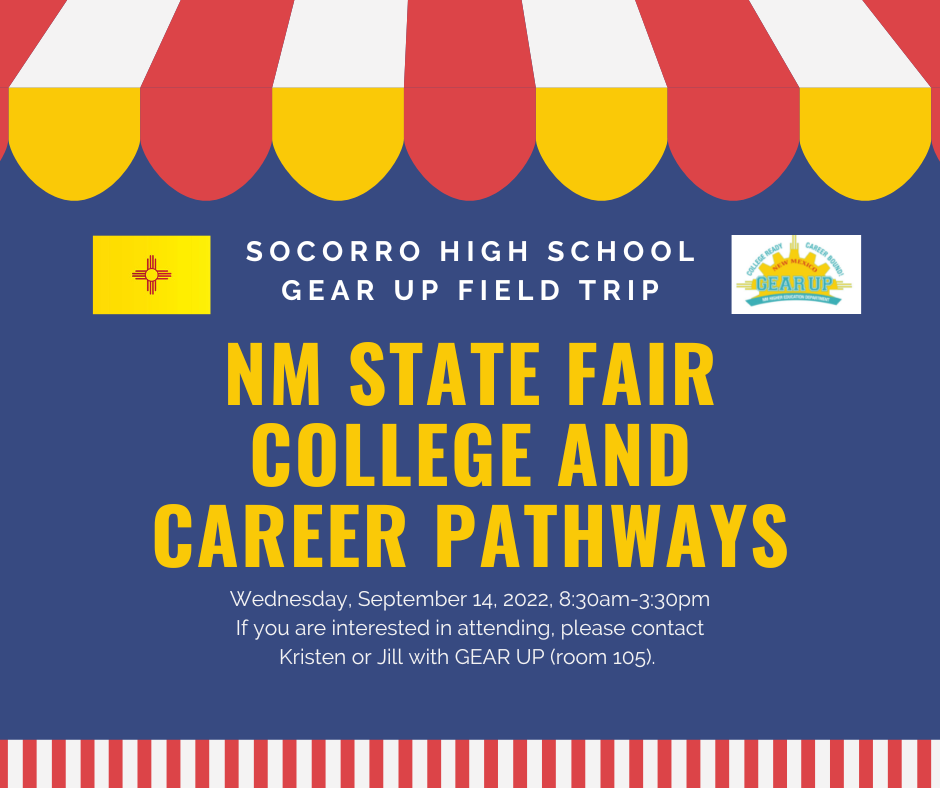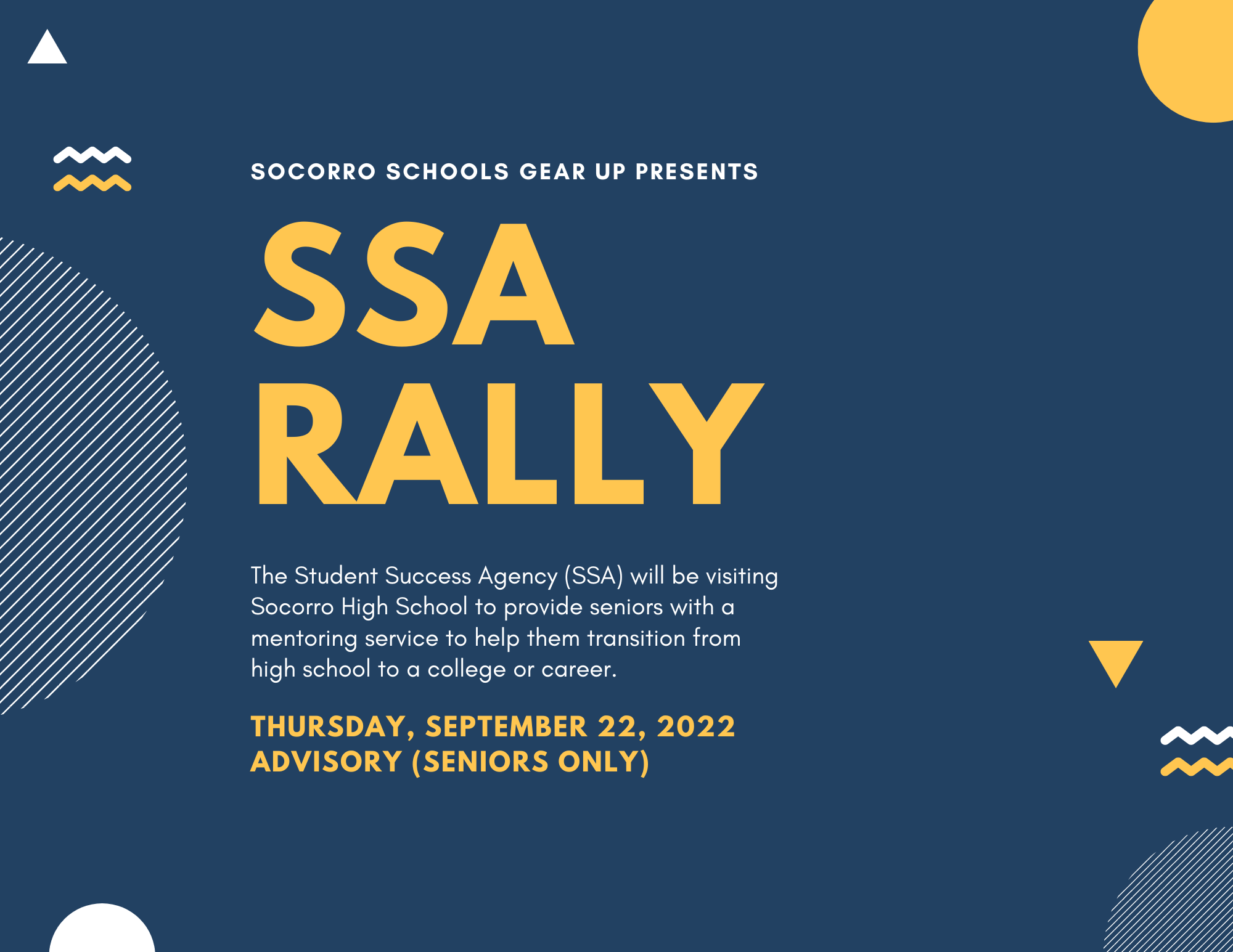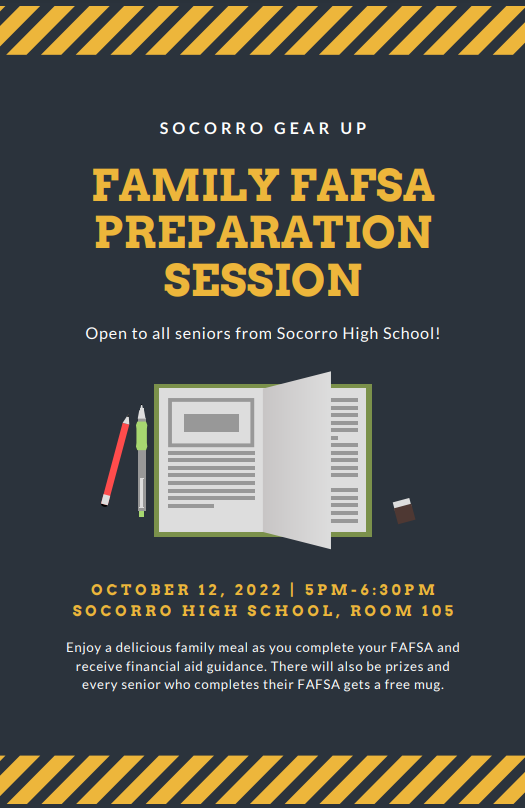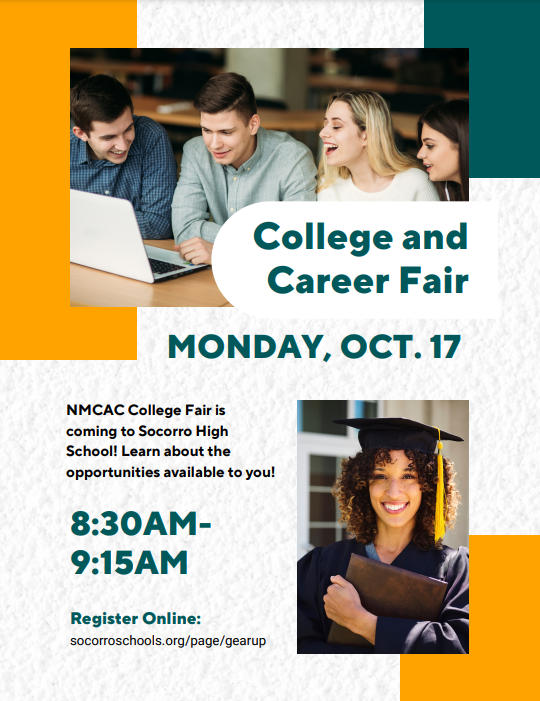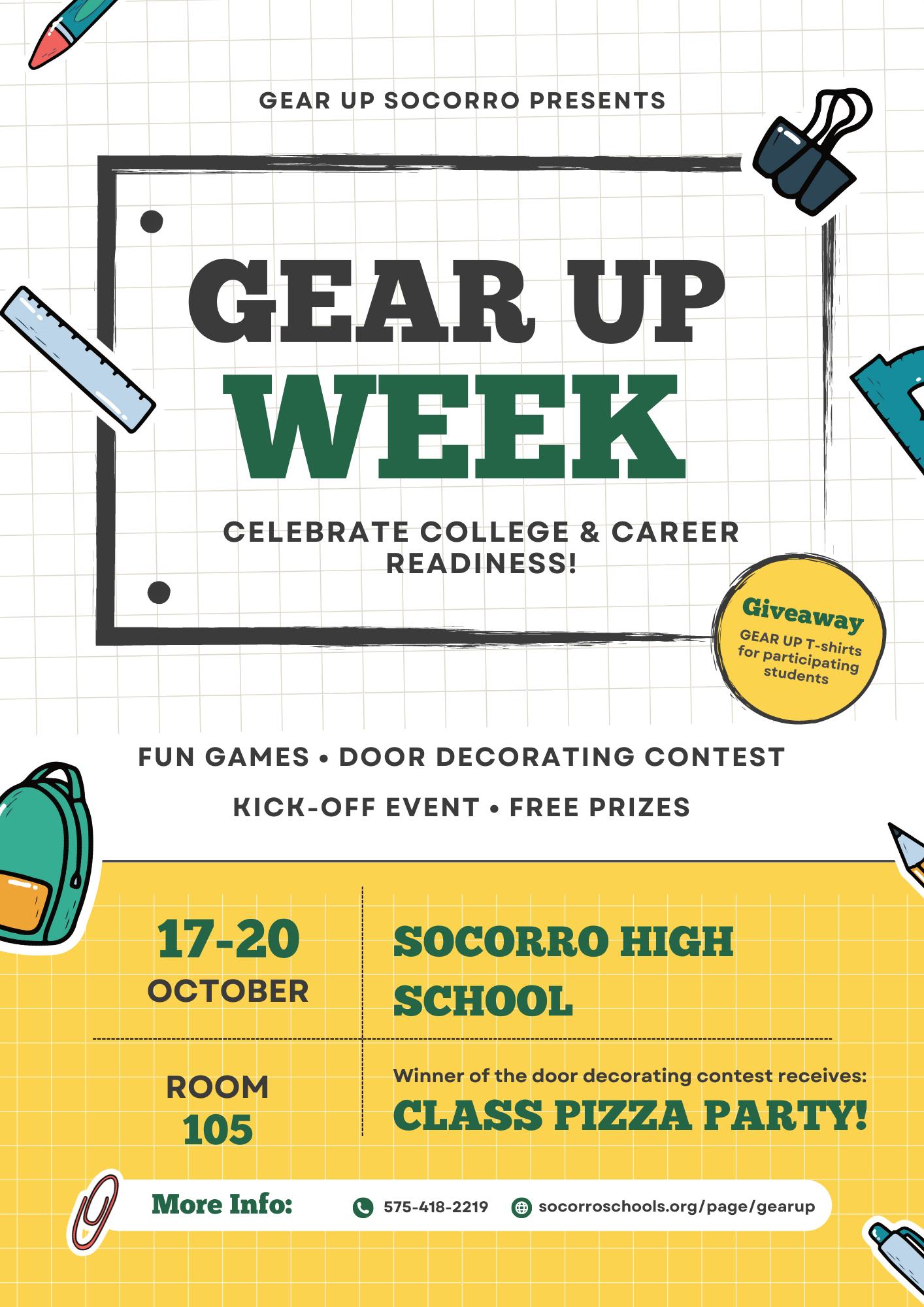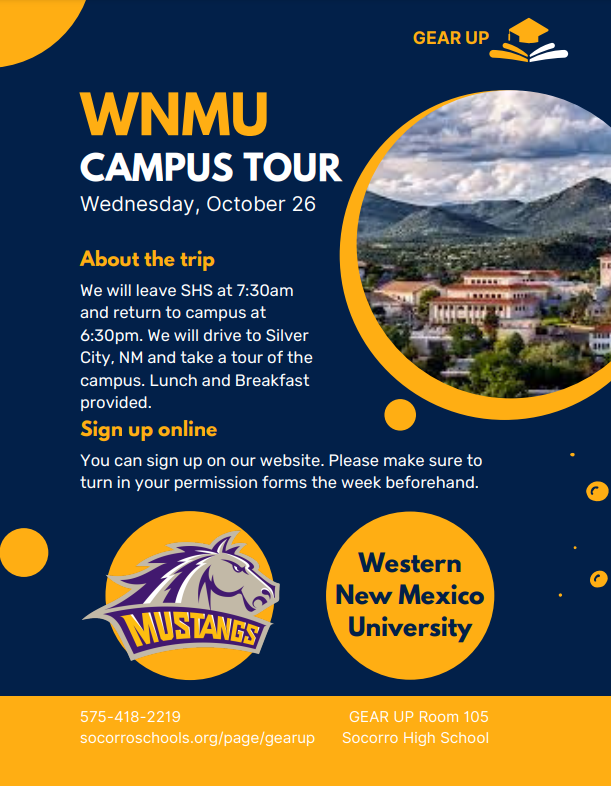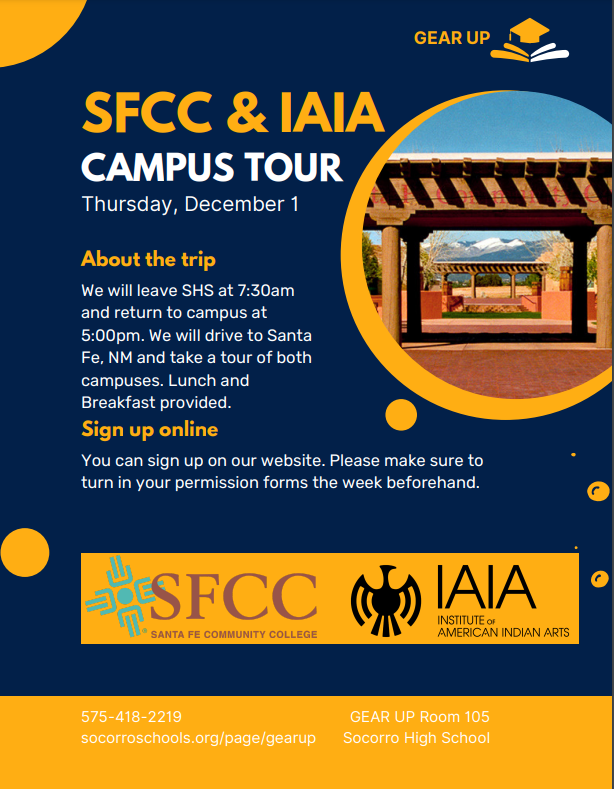 GEAR UP will provide free tutoring on Mondays, Tuesdays, and Wednesdays during advisory and lunch (11:10am-1:10pm) in room 105. Receive tutoring for math, science, English, and Edgenuity classes. We can also help students with career exploration and college applications. If these times don't work, let us know and we can schedule individual appointments. Free snacks are provided!
Our mission at GEAR UP is to work with students, families, educators, and community members to facilitate college and career readiness. Our ultimate goal is for students from all backgrounds to obtain the training and education needed to lead rewarding, productive lives.

We provide the following services:

tutoring (including credit recovery)

academic advising

student leadership opportunities

career exploration

campus tours

family workshops

SAT prep

assistance with college applications

financial aid counseling

We also support the HS AVID classes and the MS Math180 Class.

We are located in Room 105 at Socorro High School.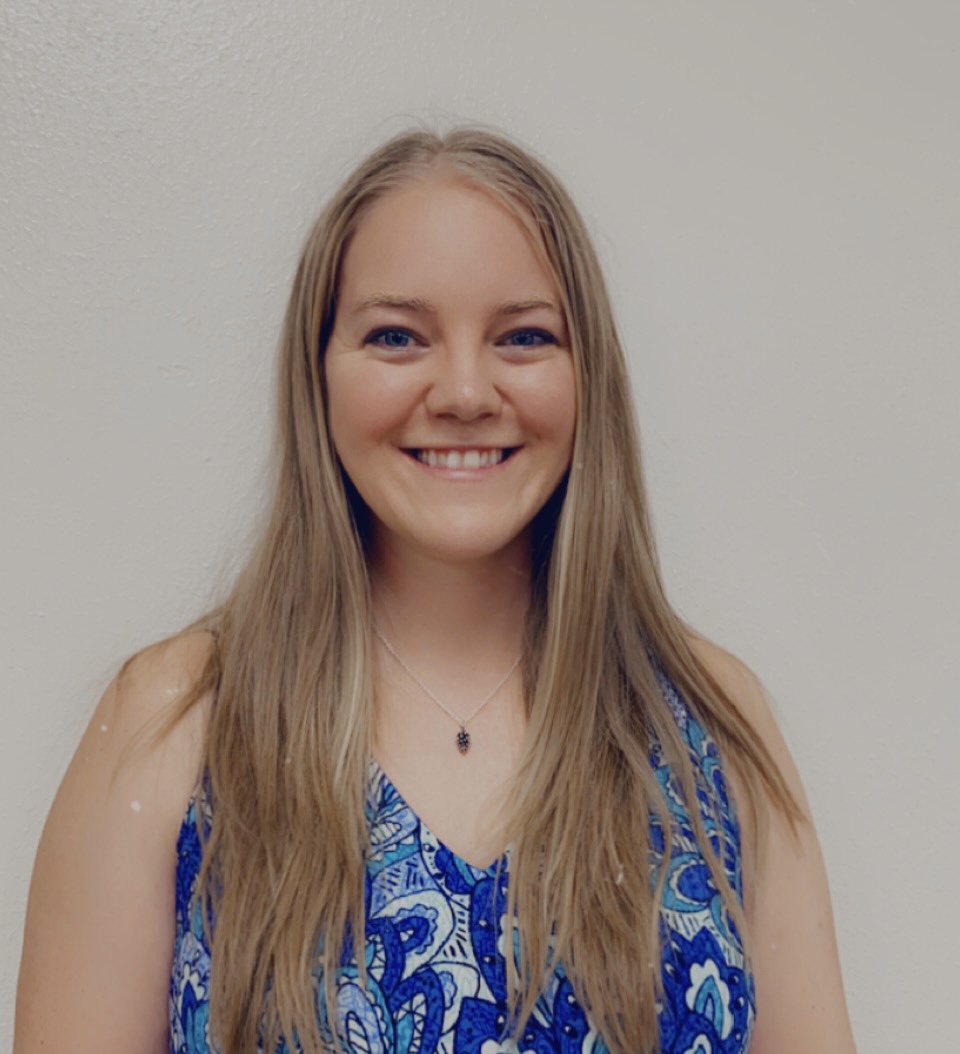 Kristen Griego
Program Coordinator
kmgriego@socorroschools.org
575-418-2219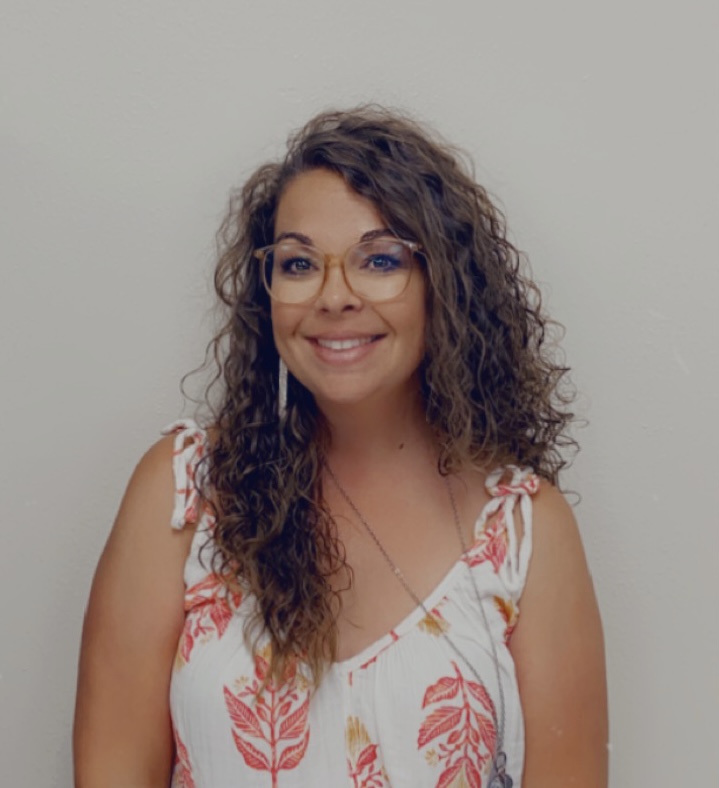 Jill Madrid-Angel
Data Coordinator
jmadrid-angel@socorroschools.org
575-838-2749
Follow Socorro GEAR UP NM on Facebook!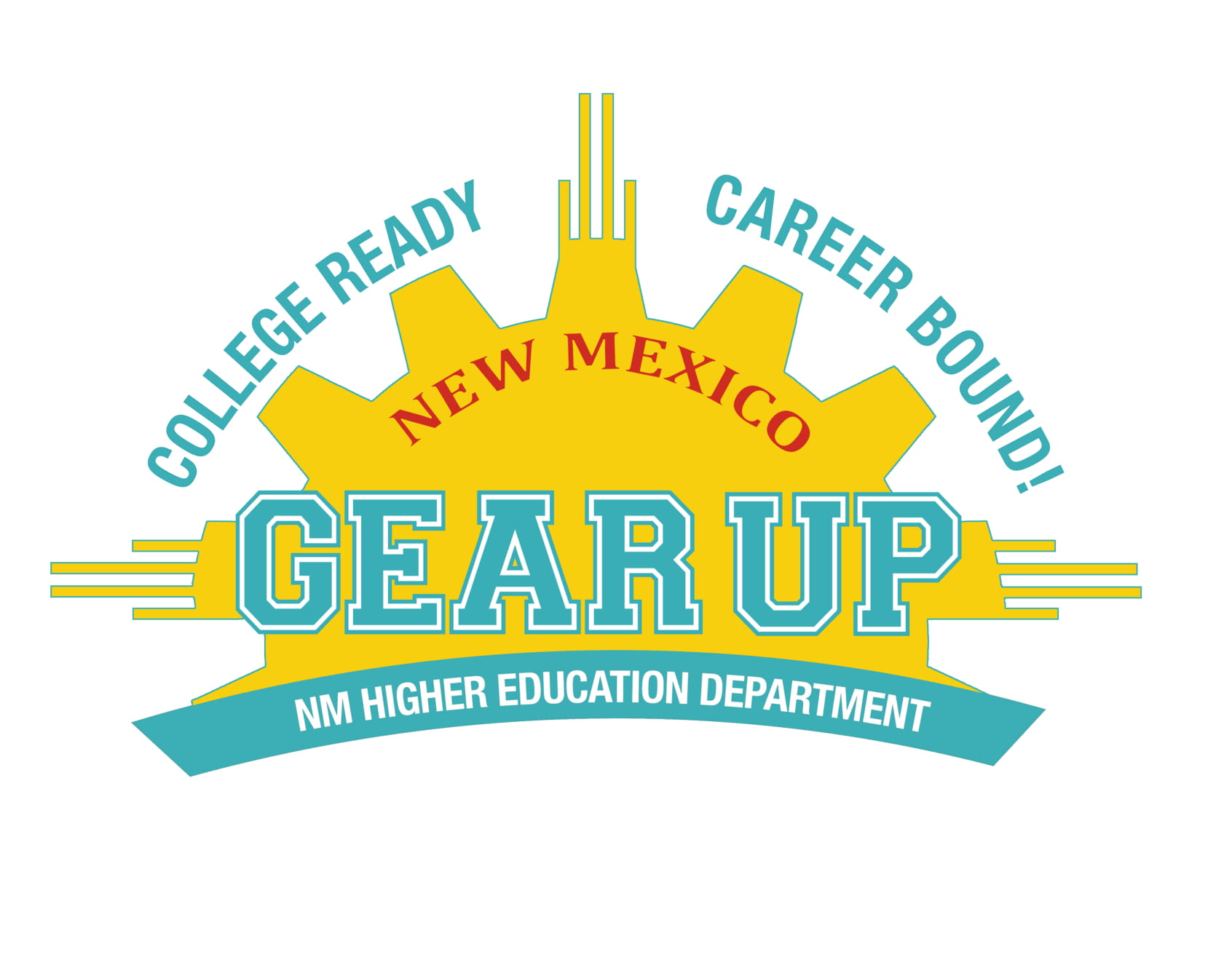 NMT Upward Bound- Math and Science. GEAR UP and Upward Bound are sister programs. They are both federal grants that bring in additional funds to support Socorro students. However, every student (7-12) is eligible to receive free services from GEAR UP, whereas, Upward Bound students must apply and be accepted into the program to receive free services. In addition, Upward Bound only serves high school students who are low income and first-gen (parents did not graduate a 4-year college). Upward Bound is an amazing program, and if you are an eligible freshman or sophomore, we encourage you to apply. To learn more about Upward Bound, click here to visit their website.
Warrior Wellness Coalition - 24/7 Hotline - 575-838-2543. Partnership between Socorro Schools and many community partners that seeks to meet the needs of all students to ensure that they can learn and thrive. The Warrior Wellness Line is available to all students and their families who need assistance with mental health support or assistance with other basic needs such as housing, medicaid eligibility, food, clothing, school supplies, child care assistance or assistance accessing other community resources. Families can also speak with the Counselor, Social Worker, or administrator at any school site to gain access to this support.
Michigan Ave Marketplace - Located in the SHS Cafeteria - 575-838-2543. Free grocery store available to students each week. Hygiene items and clothing items are also available. Located at Socorro High School. If students at other sites are in need of food assistance, food can be delivered to the school site or student home.
Socorro Storehouse ( Monthly Food Boxes)- 575-835-2079
MWCAP NM- 575-835-0899
Puerto Seguro Safe Harbor, Inc. - 575-418-0134. Offers home cooked meals, clothing, showers, and food assistance to Socorro County
SCSD's McKinney Vento Program provides support to students who are experiencing homelessness. Homelessness under this federal law includes: living doubled up with another family because housing is unaffordable; living in temporary housing such as a hotel, RV, etc; living in substandard conditions such as housing without utilities; unaccompanied youth for any reason. This program can also assist with obtaining documentation required to apply for housing benefits and can assist with the housing application process. Liaison - Frances Fuller, LCSW - 575-838-2543. Navigator - Jill Madrid-Angel - 575-838-2749
Socorro County Housing Authority- 575-835-0196. Various programs available depending on qualifications. Socorro Schools Navigators can assist with the application process.
Foster Care. Students who are in foster care have protections to ensure school placement stability. Before enrolling or disenrolling a child in foster care, a best interest determination has to be completed to ensure that the school placement is appropriate and that all of the students' documentation and support services are transferred appropriately. Foster Parents can contact the Warrior Wellness Line for more assistance. Liaison - Frances Fuller, LCSW -575-838-2543.
PMS Socorro School Based Health Center - Medical & Mental Health Services. Located @ SHS, Open to all SCSD Students during set hours during the school week. Contact PMS for scheduling 575-835-4444. Contact Warrior Wellness Line if needing assistance with setting up services. Students 14 years and older can seek confidential services as protected by law.
Mental Health Support for NMT Students - 575-835-6619
Presbyterian Medical Group Behavioral Health. 575-838-4690
Project AWARE. Project Aware is a mental health program that provides individual and family therapy services as well as Peer Navigator are available to students. Therapist - Anne Lear, LMFT - 575-838-2752. Peer Navigator - Samantha Vivian-Gonzales - 575-838-2774. Program Director - Jackie Muncy - 575-838-2544
Casa de Luz -575-838-7615. "Casa de Luz is a family support agency that services families in Socorro and Catron Counties with children birth to 18 years of age. It is our mission to empower families to provide nurturing relationships and environments for children to thrive."
Child Care Assistance- 575-866-2315
Human Services Division 1014 N. California- Income Support - 575-838-8717. (SNAP (food assistance), TANF (cash assistance), LIHEAP (Utility assistance), Medicaid Enrollment, Child Support Assistance
Domestic Violence Resources- El Puente del Socorro -575-835-0928. El Puente del Socorro provides a 24 hour DV crisis line, orders of protection/temporary custody, a women's empowerment group, an offender's group, and offer referrals for child care and counseling
Socorro Transportation- 201 Church St.- 575-835-1501. Socorro Taxi Service-606 N. California- 575-835-4276 (For transportation to medical appointments, Medicaid card has a number on the back to set up transportation.)
Mentorship Opportunities- NMT Outreach Office- 575-835-5216. Supporting mentoring relationships among students, STEAM professionals, and community members.